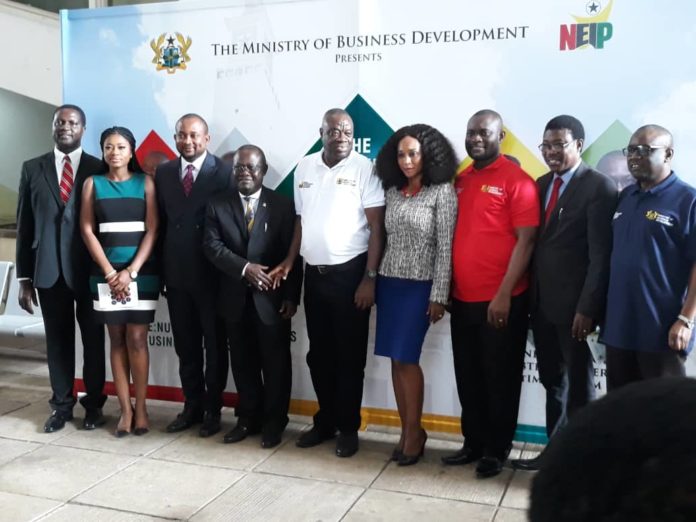 The Ministry of Business Development has launched the Campus Business Pitch, an inter-university business competition aimed at stimulating the entrepreneurial mind-set of young people in Ghana to make them job creators rather than job seekers.
According to the Business Development Minister, Dr. Ibrahim Mohammed Awal, government through his ministry has set aside funding support of GH¢3million available for the competitors.
Dr. Awal, in his address, noted that government is ready and willing to support the competitors from idea-stage to the implementation stage of their businesses, and urged the students to be innovative and focus on building sustainable businesses.
He said: "We want students to give us compelling, innovative and bankable business proposals, because we will fund them. See yourself as global citizens and not just in Ghana. See yourself as part of the 1.2 billion global citizens in Africa".
Dr. Awal advised that the continental free trade area provides an opportunity for a US$3.3billion Investment into Africa, and therefore this must be seized and used to their advantage.
He encouraged women, especially, to take advantage of the funding made available for their businesses, "because ladies turn out to be the most successful business people in this country, so I want to see more women in this Pitch".
On his part, Vice-Chancellor for the University of Ghana, Professor Ebenezer Oduro Owusu, said the University of Ghana believes that creative business practices are the bedrock of successful enterprises all over the world, as well as effective and efficient customer management.
According to him, aspirations of the University of Ghana and Ministry of Business Development are therefore closely aligned in this endeavour.
He added that the pitch will enable participants to gain insights for their businesses, learn how to pitch to investors, interact with stakeholders, and test their business in the real world.
Professor Ebenezer Oduro Owusu advised that entrepreneurs who start a good business should also help participants learn how to build and work with teams, and the importance of leveraging their strengths and those of others on a team.
Touching on challenges that entrepreneurs face, Professor Owusu said: "In Africa, entrepreneurs continue to face challenges that hinder their efforts – which include a lack of access to funding support services skills training and infrastructure, as well as administrative barriers".
He however commended the Ministry of Business Development for being very instrumental in removing those barriers, through the creation of an enabling environment that promotes private sector-led investments to nurture and sustain businesses.
Professor Ebenezer Oduro Owusu added that the University of Ghana has encouraged its students to have an entrepreneurial mind-set through establishment of the Entrepreneurship Fair, held annually to exhibit the products of student entrepreneurs.
"To inculcate the spirit of entrepreneurship, the University of Ghana has also recently commissioned the Evirodome Greenhouse Technology as an initiative by the Institute of Applied Science and Technology of the University of Ghana.  As envisaged, the greenhouse technology will increase sustainability in the production of safe vegetables compared with the open-field method of growing vegetables," he added.