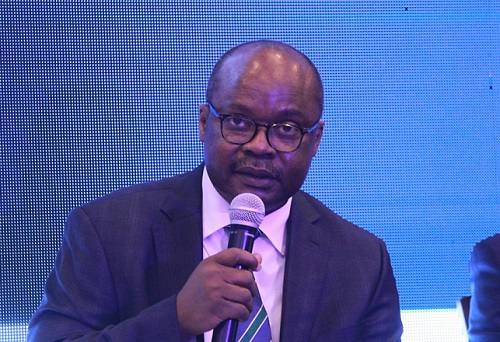 The Bank of Ghana Governor, Dr. Ernest Addison, says though it is expected that fiscal policy will stay on course and inflation will trend downward in the medium target, it is building buffers to withstand any potential disturbances in 2020.
"We need to build as much reserves as we can in 2019 in order to manage the potential disturbances of 2020; and if you look at the data, they are projecting building up almost an additional GH₵1billion by the end of 2019.
"We are building the buffers: if fiscal policy stays on hold, hopefully we will continue to restrain inflation around the central point; and we are hoping the external environment will not give us cause to tighten the monetary policy," he said.
He was speaking as one of the panellists in the opening plenary session themed 'Sustaining Macroeconomic Stability Through the Election Cycles: The 2020 Test Case', at the 8th edition of the Ghana Economic Forum (GEF) organised by the B&FT in Accra yesterday.
Prof. Peter Quartey, Director of the Institute of Statistical Social Economic Research (ISSER), also proposed legislation that will bar government from signing or entering into new contracts in order to avoid election overruns.
Economist and senior statesman Kwame Pianim, on his part, urged public and private sector actors to minimise their demands on government as it seeks to sustain macroeconomic stability heading into the election year.
Mr. Pianim stated that even though the macroeconomic stability that has been achieved by government is significant and remarkable, it remains precarious.
According to him, the core of the country's inability to sustain macroeconomic stability is due to what he described as an "exaggerated entitlement mentality" of the Ghanaian.
With government expenditure at around 20 percent of Gross Domestic Product and revenue hovering at 6 percent, "Expenditure control ought to be where we should be getting to. I think all of us as Ghanaians, with all hands on deck, we should minimise the demands we make on government," he argued.
For him, the country's reserves should be driven more by manufactured exports other than gold, and he reckons a growth pillar is the only thing that will make sure that revenue comes in private sector-directed growth.
"Where we are now is very uncomfortable, and to strengthen our position we have institutional mechanisms for holding back over-expenditure. The Public Sector Financial Management Act which put a lot of responsibility of spending officers, maybe we should be more rigorous in the sanctions that we need to do.
He also proposed a processing fee on international loans approved in Parliament, in a bid to strengthen the legislature's ability to curb over-expenditure.
"Parliament is also supposed to be a key source; maybe we should strengthen Parliament's ability – which means we need to give Parliamentarians the skills they must have for their reviews in approval of international loans and treaties. I am going to propose to the Finance Minister that he considers we put a processing fee for all international loans parliament is going to approve – 0.25 percent of the loan's value for them to get professional staff to support them in doing the review.
"But if all of us as Ghanaians decide that growth is important, unravelling macroeconomic stability is a burden on the poor who cannot protect themselves. There has to be education for all the public to be able to understand the burden we put on ourselves when the macroeconomy unravels; and once they know that, we as Ghanaians and voters will not put unnecessary demands on the Finance Minister to go and raise money," he explained.