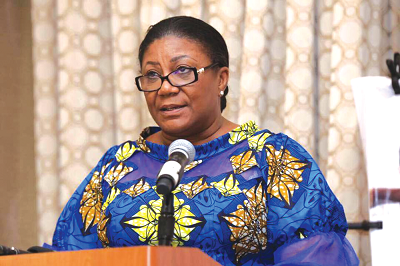 For women to succeed in business, they must be bold and confident to seize opportunities that come their way, First Lady Rebecca Akufo-Addo has said – noting women in business also require access to credit at reasonable interest rates, mentorship, and access to markets to grow and expand their enterprises.
Mrs. Akufo-Addo spoke at the launch of the Association of Ghana Industries (AGI) Women in Business, on the side-lines of the three-day Ghana Industrial Summit and Expo 2019 in Accra, and noted that women are more than capable of managing and growing business, but require a certain level of support to help them take their businesses to the next level.
"The bottom line is that we need to provide every support to enable women move to the next level," she said, while speaking on the theme 'Promoting women enterprises for gender equity toward competitiveness'.
"I also encourage women to believe in themselves and access every available support in order to grow their businesses. As women in business, I urge you to be more proactive by strategising to meet the changing trends in doing business. I know that businesses are challenged in keeping with technological innovations, open market and competition," she added.
The AGI Women in Business group seeks to, among other things, influence policy direction for women businesses, explore market opportunities, network and share ideas, as well as encourage them to play pivotal roles in industry.
As industrialists, Mrs. Akufo-Addo noted, it is important that women, and Industry as whole, rethink how they do daily business to align with emerging trends in modern technology and remain relevant to the market they serve.
She said this is particularly imperative because several international trade protocols are impacting on how business is done in the globalised world.
The First Lady said it is therefore incumbent on local businesses to be ready for this new dawn.
Other areas she believes could substantially propel growth for women-led businesses are networking, mentorship and partnerships.
For instance, she said in 2017 she led a delegation of women groups to China to explore business opportunities in the Asian country; and feedback from the women indicate that they made some significant business deals.
"I will continue to give whatever support I can to promote the businesses of Ghanaian women," she assured.
She added: "It is therefore my expectation that the AGI Women in Business will become an example to others in Ghana and beyond. I urge you to draw on your numbers and strength to make this happen".