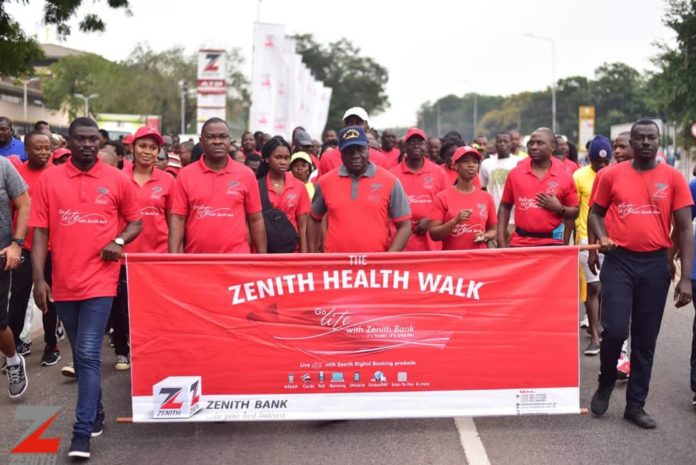 Zenith Bank Ghana, as part of activities marked for its 14th anniversary celebrations, has organised a health walk for its staff, partners and customers.
The 5-kilometer walk begun from the Zenith Bank Ghana head office at Ridge, through to the Parliament road, then to the Osu cemetery, Osu Ebenezer Presby Church, the Oxford Street, to Danquah Circle, the Fire Service Headquarters, the Police Headquarters, the Ako Adjei Interchange then back to the Zenith Bank Ghana head office also known as Zenith Heights.
Addressing the crowd after the walk, the Managing Director of the Bank, Mr. Henry Oroh, noted that the bank organised the walk to encourage a lifestyle of healthy living amongst their staff, partners and customers as well as build a stronger relationships between the bank and its customers.
He said Zenith Bank places a lot of value on their people and therefore one of the ways to promote effective service and growth is by living healthily.
Held under on the theme: "Go, Lite… Live Lite", Mr. Henry Oroh, said the Bank started with the vision of a being a reference point in the provision of prompt, flawless and innovative banking services and products in Ghana.
"We set to achieve its vision by investing in the best people, best technology, and best environment. We look back in 14 years, and we have seen a bank that have moved to the top of the banking industry in terms of corporate governance and of profitability", said Mr. Oroh.
He added that the management of the bank would continue to invest in the right people, technology and the environment to boost service delivery.
Mr. Oroh noted that over the last 14 years, the bank has moved to the top of the banking industry in terms of corporate governance, profitability, size, quality and power of the brand adding that in the next three years, the bank would be number one in the banking industry.
He also touched on some of the awards won by the bank including the Best Bank in Ghana and across the West African Sub-region.
He expressed gratitude to stakeholders, partners, customers and staff of the bank for their enormous contribution towards the success, growth and upliftment of the bank adding that the living standards of its staff would change for the better.
Also present was Mr. Abikoye Femi Michael, the Nigerian Ambassador to Ghana, who congratulated the management and staff of the bank for their commitment and dedication to serving its customers.
He praised the excellent customer service and staff loyalty at Zenith Bank, urging that such a positive work culture should be maintained.
Mr. Abikoye also commended the partners and customers of the Bank for their continuous support and commitment to the growth of the bank.