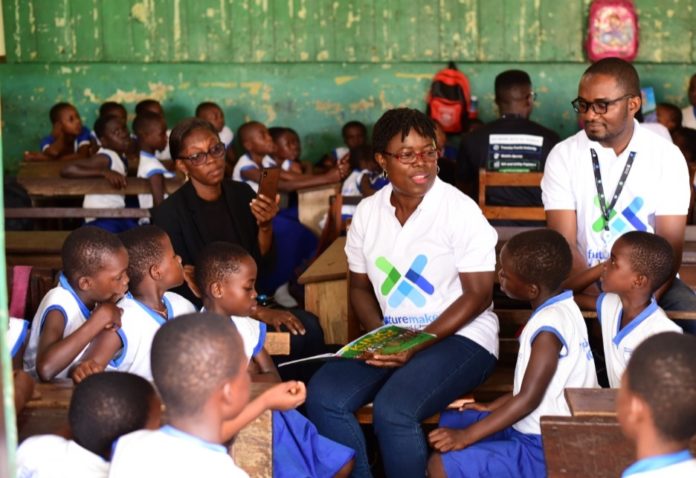 Standard Chartered Bank, as part of its Future Makers programme, has engaged students of the Bishop's Girls' Basic School as part of activities to mark International Day of the Girl.
The students were exposed to financial literacy and debating skills to aid develop their cognitive skills as well as help them become better planners in the future by practicing a savings culture. The Future Makers programme is an initiative of the Standard Chartered bank that focuses on three key areas; employability, education and entrepreneurship.
The initiative creates an avenue for the bank to engage the people and students in the communities in which the bank operates and also serves as part of the Corporate Social Responsibility (CSR) arm of the bank.
According to Angela Okai, Company Secretary of StanChat Ghana, the aim of the Future Makers initiative is also to empower young people in these communities to earn, work and grow.
She said "We decided to empower young girls within under served communities to mark the International Day of the Girl. We chose the school because it's an all girls school. We engaged from KG to JHS 3. We did reading exercise, debate and financial education to sharpen their finial literacy skills. We were impressed by this participation".
She emphasised that the activities of future Makers does not neglect the participation and contributions of boys.
She said "We speak to both boys and girls and we will be celebrating the International Men's Day to touch on issues that bother men and boys and to empower them as well."
The topics for the debate were; "Between a mother and a father, who is more important?" And "Made in Ghana versus Imported products, which should be encouraged?".
Madam Angela Okai, speaking on the outcome of the engagement with the students said "The students debated well and the conclusion was that if we buy made in Ghana, people will get jobs. They understand what is going on around them. They also concluded that your intelligence is not determined by your gender. They believe that both boys and girls should be given the same opportunities to shine".
Touching on the impact the interaction will have on the students, Mrs. Florence Nortey, Headmistress for Accra Bishop's Girls' School noted that the students are encouraged to concentrate on their education to get there. It is a change for them.
She said: "You can see that they are happy to engage with the staff from Stanchat. They have been taught debating skills and financial management which are good practices.
Sometimes you just need someone to talk to you to straighten your path. Some are having critical thinking though this. Sometimes we teachers have our syllabus, so from outside you can bring in extra curriculum activities".
She encouraged the Bank to do more by visiting other neighbouring schools to extend their education on financial literacy and debating skills.
"Stanchat can do more to other schools for them to benefit and they must target both males and females. We need to prepare both for the future so we don't create problems for the girls when they grow up. Because they are growing with these boys. We have to empower the girls without leaving the boys behind", said Madam Nortey.