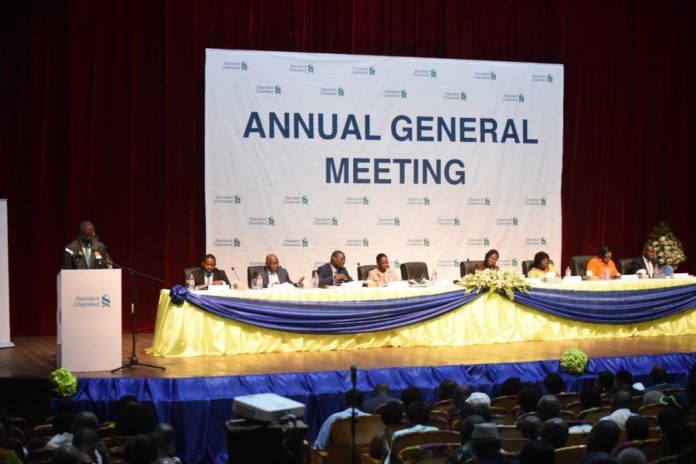 Standard Chartered Bank Ghana Limited has announced that it has made a profit of GH¢210million for the year 2018 at its Annual General Meeting.
The bank also declared dividend on ordinary shares of GH¢1.04 amounting to GH¢140million and representing 20% of total income for 2018.
Also, the underlying operating income of the bank increased by 5% year-on-year from GH¢676.8million in 2017 to GH¢712.9million.
Chief Executive Officer of the bank, Mansa Nettey, revealed that the bank recorded an underlying in operating profit of GH¢325.6million. Operating expenses increased by 17% from GH¢244.9million in 2017 to GH¢286.3million in 2018.
"We delivered a total operating income of GH¢712.9million, a 5% increment over our prior year performance. Net impairment charge was GH¢100.8million compared to prior-year of   GH¢9.5million, due to our more stringent implementation of IFRS 9-related adjustment and the bank's prudence internal risk guidelines. This resulted in a decline in underlying in profit by 23% to GH¢325.8million.
"Our focus will be to concentrate on delivering our strategy through disciplined execution and driving operational efficiency and productivity while positioning our business segment for growth.  Despite our growth being slower than expected and impacting our short-term profits, we have put in place actions to get the business back on an upward growth trajectory. We will continue to maintain the right financial framework supported by a strong balance sheet to generate strong returns while pursuing further recovery and restructuring of impaired assets to ensure value conservation and creation."
Commenting on the 2018 results, the Board Chairman of Standard Chartered Bank Ghana Limited, Dr. Emmanuel Oteng-Kumah, said the bank's performance has been mixed – with major highpoints being adversely impacted by some headwinds.
According to him, management of the bank will continue to navigate these headwinds to steer affairs of the bank safely.
"It is encouraging to see an increase in balance sheet momentum and income. Management is investing to enhance controls and improve productivity to make the bank safer and simpler to do business with. Banking remains a risk-based industry, and we will remain prudent in our management and pricing of risk. Although competition remains intense, the bank aspires to be the market leader in every sense."
Mr. Kumah assured that: "We are undoubtedly poised and confident that we will deliver strong performances in the years ahead. Our actions will improve the client experience and create a differentiated proposition for all stakeholders".
Although the bank made these significant strides for the year 2018, there was a 23% decline of profit before tax from GH¢422.27million in 2017 to GH¢325.87million, which according to Mr. Kumah was mainly due to an increase in impairment charge to GH¢91.2million.
Also, net customer loans and advances decreased by 6% from GH¢1.38 billion to GH¢1.30billion. This he attributed to loan write-offs and de-risking of the bank's loan portfolio.