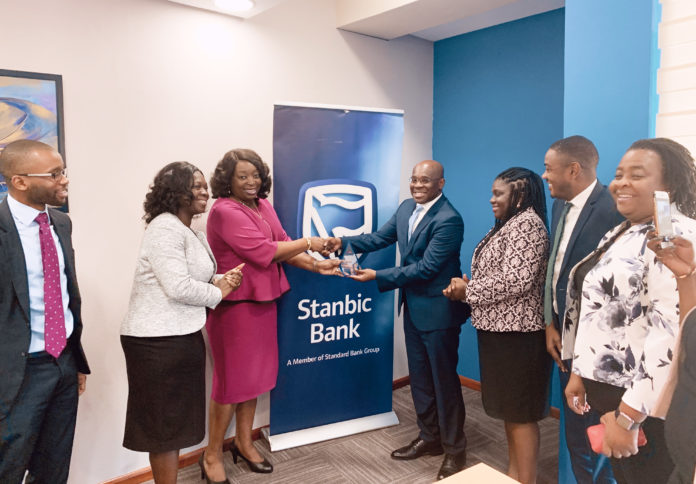 Stanbic Bank Ghana has been awarded the prestigious Straight Through Processing (STP) Excellence Award by Citibank. The STP award recognizes quality in the field of payment transactions, reflecting the degree of automation.
The award was given to Stanbic Bank Ghana for conducting international settlement services with an STP rate above 95 per cent
Mavis Fayorsey, Head, Production Operations, Stanbic Bank Ghana, is proud of Stanbic Bank's exhibition of professionalism and methodical approach to its operations. Fayorsey said, that the award is a testament of the Bank's commitment to excellence on all fronts and that Stanbic Bank prides itself in having the requisite systems and teams to ensure a distinct experience for its clients while ensuring the swiftness of transactions.
"This is our first year working with Citibank. In the past, we attained similar laurels with Deutsche Bank year on year. We strive to maintain this precedence and hope to do better in the future" she added.
Citibank's STP Award is presented annually to banks that have proficiently processed foreign currency payments. STP is set up in a way that ensures that payments are done automatically without human involvement. It is cost- effective for both Stanbic Bank Ghana and Citi Bank if the former's STP rate is high. The reason is that less processing time and resources are used when the STP rate is high.
Olivia Kumordzi, Country Business Manager, Citibank N.A. Ghana Representative Office said, "This award was given to Stanbic Bank Ghana on the merit of exhibiting excellence. Every year, we take the time out to review work that our correspondent banks have done and based on how efficient they have been in processing their transactions and the percentage efficiency they attain, we give this award in recognition of their efforts."
Stanbic Bank Ghana is a firm believer in the need for strategic partnerships which will bolster progress in the Bank's transactions and delivery time, thus prioritizing customer satisfaction and ensuring business excellence.