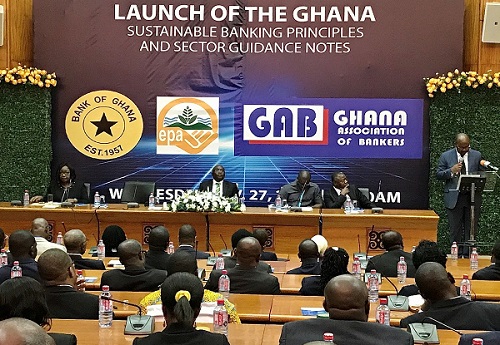 The Bank of Ghana, in partnership with the Ghana Association of Bankers and Environmental Protection Agency, has launched the Sustainable Banking Principles (SBPs) and accompanying sector specific guidance notes which provide the guiding principles to underpin effective Environmental and Social Risk Management (ESRM) policy frameworks for banks.
This, the central bank Governor, Dr. Ernest Addison, said is a key component of banks' overall risk management strategy to ensure their credit and commercial considerations are balanced with responsible and sustainable banking principles.
Speaking at the document's launch in Accra, the Governor said: "Responsible banking practices will have to ensure that environmental and social risks associated with projects financed by banks are well managed.
"In an environment of climate change, environmental degradation, changing demographics, among others, economic growth objectives are now intertwined with sustainable socio-economic development objectives.
"Considering the important role of the financial sector in economic development, the issue of sustainable financing is critical and therefore requires a robust environmental and social risk management (ESRM) policy," he noted.
The newly launched document comprises seven principles for identifying, measuring, mitigating and monitoring environmental and social risks and opportunities in banks' business activities; promoting good environmental and social governance practices in banks' internal business operations; strengthening good corporate governance and ethical standards; enhancing resource efficiency and sustainable consumption among others.
The principles will apply to five sectors: agriculture and forestry; mining, oil and gas; construction and real estate; energy and power; and manufacturing.
Dr. Addison encouraged banks to take advantage of these SBPs and sector guidance notes to develop effective ESRM policies to promote the sustainability of their banking business, as well as that of the Ghanaian economy.
"For banks to remain sustainable over the long-term, it is important that their own internal operations and financing activities meet the present needs of economic agents today, while not compromising the ability of future generations to meet their own needs."
Vice President Dr. Mahamudu Bawumia noted the initiative's launch demonstrates Ghana's commitment to the global agenda of climate change, stressing that it is essential for financial institutions to integrate environmental and social factors and climate disruption issues into their risk management strategies.
"There is no doubt that environmental risk arising from climate change in particular constitutes significant systemic risk for the financial sector.
"Financial regulation and supervision need to extend beyond its traditional micro-prudential focus and develop macro-prudential frameworks aimed at limiting systemic risks in the financial sector," he added.
These principles, according to the Vice President, will initially be applied to universal banks and subsequently include rural banks, saving and loans, microfinance institutions, and all categories of non-bank financial institutions.
On behalf of the Ghana Association of Bankers, President of the association Mr. Alhassan Andani pledged the group's commitment to implementing the new principles to their fullest, to ensure banks and their clients conduct businesses in an environmentally friendly, and socially acceptable manner.