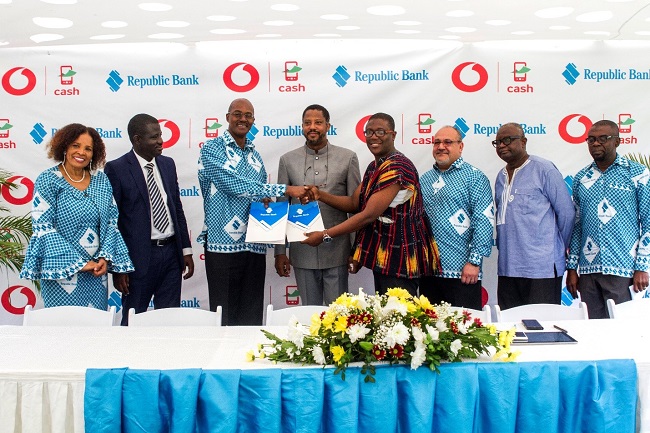 Republic Bank (Ghana) Limited, a subsidiary of Republic Financial Holding Limited, has unveilled its partnership with Vodafone Ghana.
Republic Bank is now a partnering bank to the Vodacash services offered by Vodafone.  As a partnering bank, Republic Bank can now hold on to funds generated from Vodacash transactions as deposits, and also has the opportunity to offer other products and services through the Vodacash platform.
Speaking at the launch of Vodafone cash services held at the bank's Head Office last week Friday, the Managing Director of Republic Bank, Anthony Jordan said: "The bank recognises the convenience of Vodafone Cash as an alternative means for the safe and secure transfer of money, hence the partnership with Vodafone. We at Republic Bank believe that taking our services closer to our customers goes beyond opening physical branches.
"It extends to providing a seamless means by which our customers can send and receive money in a safe and secure manner. As a result, we are very excited about the launch of our Vodafone Cash service today." The Managing Director added that in addition to funds transfer and bills payment, the bank seeks to extend its savings and loans products to the Vodacash platform.
Republic Bank has nine branches in cocoa-growing areas of the country's western parts. According to the Managing Director, the bank will utilise the Vodacash system to support the cocoa farmers.
Present at the meeting were representatives of Vodafone Ghana led by Carl Ashie, the Mobile Financial Service Manager; Members of the Republic Board, and other Executive staff. Mr. Ashie was impressed with the progress made by Republic Bank in the past two years.
Mr. Ashie took the opportunity to reiterate Mobile Money's importance in the financial inclusion of our country's informal sector.