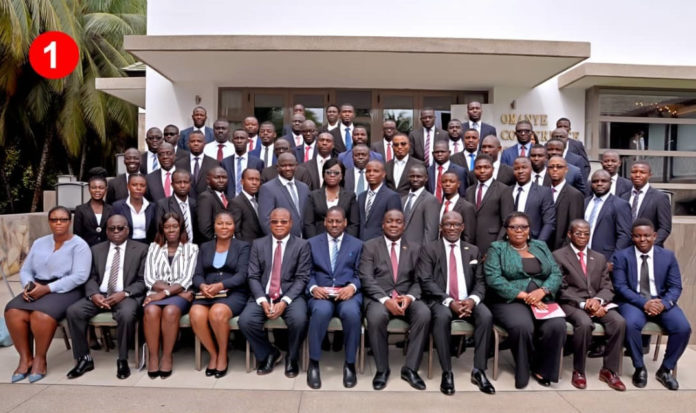 The Institute of Chartered Accountants Ghana (ICAG) has inducted the second batch of newly qualified Accountants into the Institute for year 2019. The induction which formally introduced the newly trained Accountants into ICAG fraternity after their requisite years of work experience and training.
Rev. Daniel Ogbarmey Tetteh, Director General, Securities and Exchange Commission (SEC) said it is important the critical role accountancy plays in business and especially in the securities industry. Investment decisions that take place in the capital markets depend on reliable financial information published by issuers which are prepared by Accountants and certified by Auditors which adds credibility.
"The SEC as the regulator of the capital market, depends greatly on ICA to regulate the market as far as financial reporting is concerned to achieve our mandate of protecting investors and the integrity of the market. This relationship is enshrined in the Securities and Industry Act, 2016 (929)", he explained.
The SEC Boss advised the new inductees that the new status of CA imposes on them greater responsibilities that they do not limit their role only to record keeping but also producing management report that will guide executives in taking informed decisions that will inure to growth of the businesses they manage.
He however commended the Institute for sanctioning four audit firms for non-compliance with auditing standards during their audit of the seven banks who were placed under receivership in 2017 and 2019 by the Bank of Ghana.
Prof. Kwame Adom-Frimpong, ICAG President, advised inductees to exercise a high level of professionalism to impact on their various organizations.
"It is a known fact that everyone looks up to the Accountant for the prudent financial management of any company and that is why it has become necessary for all organizations to employ the services of qualified Accountants to do the job," he said.
Prof. Adom-Frimpong explained that ICAG's role in the training of Accountants has become more relevant than before considering the fact that the country, now than before, requires professionals in the field to play significant roles in the economic restructuring agenda by the government.