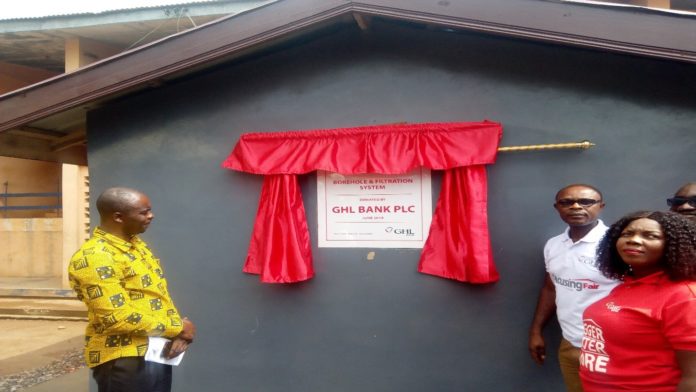 GHL Bank has constructed a state-of-the-art pipe-borne drainage and Reverse Osmosis filtration system to help secure clean and potable water for the Mampong School for the Deaf as part of the bank's Corporate Social Responsibility (CRS).
Valued at GH¢55,000, Chairman of the bank's CSR Committee – Christopher Charles Oppon, said this act of kindness will help reduce the stress students go through in order to acquire water for their usage, and will in the long run help improve productivity for students. In addition, GHL Bank also donated some branded exercise books and provisions to the school.
Assistant headmaster of the school, Erasmus Aryeequaye, indicated that the school has been facing water challenges since before he came to the institution. "Some years back, I have been told, the school had serious water challenges.
"The school has two campuses; the population is growing and we need infrastructure to accommodate them. Even if someone comes now to put up a building, a structure for us, we don't have land. The School is trying to procure a land and we have started with the paperwork; so, we are hoping government will secure a land for us in due course," he added.
He noted that government needs to do more than what it is doing to accommodate students and the teachers. Mr. Aryeequaye expressed his belief that if government makes plans for these kids, it will go a long to prevent the deaf or blind kids from ending up begging on the streets.
"If we are able to communicate with them through signs, then it will make them feel they belong to society," he added.
The Assistant headmaster appreciated the help and support GHL Bank gave by providing the school with clean, potable water; and he also pleaded with the bank to initiate an awards scheme to award deserving students and staff of the school, which would go a long way in the history of the school.