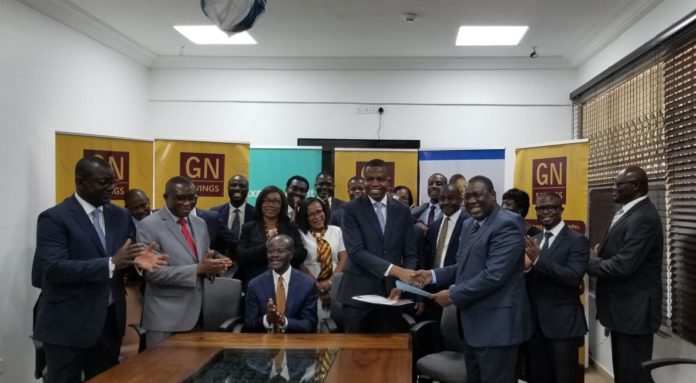 Ecobank Ghana and GN Savings signed a memorandum of understanding (MOU) for the establishment of partnership between the two financial institutions last Friday in Accra.
Under the MOU, the two financial institutions have agreed to work together in areas that will be very beneficial to both entities.
The agreement became necessary due to the reclassification of GN Bank to become a savings and loans company, now called GN Savings.
Following from this agreement, GN Savings and ECOBANK Ghana will collaborate in the areas of clearing cheques, foreign operations and trade finance with corresponding banking relationship, remittance services – local and international, and mobile financial services as well as cash management, working capital support and Treasury services.
With the MoU, GN Savings with support from Ecobank will revive its international money transfer service.
This means the following money transfer services will continue to be operational at GN Savings:  Western Union, MoneyGram, RIA, Unity Link, Wari and the internal transfer service, Sika Plus.
People living abroad can conveniently send money through GN Savings. GN Savings by this agreement will also partner ECOBANK to operate some of its branches nationwide for purposes of deposit mobilisation and other day to day business transactions.
"ECOBANK will serve as a partner in the areas of Letters of Credit (LC) and other international business agreements we will undertake on behalf of our clients.
"We therefore urge our clients and the Ghanaian banking public to continue doing business with us, as with this announcement we are more capable to offer services to you than ever before," said the statement signed by Frank Owusu-Ofori, Head-Groupe Nduom Corporate Affairs.