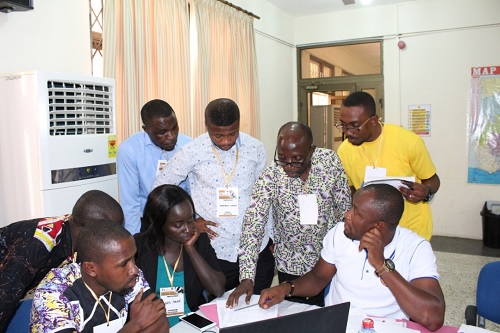 The Chief Executive Officer of Microfin Consult – a microfinance consultancy and advocacy firm, Ishmael Kwesi Otchere, has urged rural and community banks (RCBs) and microfinance companies to consider innovative and modernized ways of banking as key drivers of financial inclusion.
According to him, it is about time the microfinance sector learned from the current mobile or digitised way of appraising and granting loans; which has to do with the ability to analyse existing data of clients to monitor and track loan performance.
"Basically, RCBs and microfinance companies are dealing with persons at the micro-level, and at that level the issue of collateral is a major concern.
"I think that kind of traditionalist approach of apprising loans, which actually gives a whole lot of weight to collateral, should be a thing of the past," he told the B&FT in an interview at a three-day workshop for credit managers in Kasoa.
Mr. Otchere explained that RCBs and MFIs, whose target-clients operate at the micro and SME level, cannot be relying on customers' audited accounts or sophisticated financial statements – but there are available data about them that can inform the bank to make a good decision.
"Why is it that RCBs and MFIs cannot use client's data in order to make good analysis as the basis for providing credit?
"Can we use basic cash flow analysis to determine the loan capacity of the client; or past trends such as the statements of accounts of longstanding customers to determine the status of a client's business?
Research has shown that most of the loan defaults in these institutions are the result of weak credit appraisals, and the training programme sought to coach participants to guard against that risk – especially by making good use of existing data, he noted.
He added: "I think we all can learn from the experience of current mobile networks, wherein you can even get credit based on your past trend. So, this means that data analysis, as part of the credit interface, is very key – irrespective of the level of your client.
"Banks do not have any interest in selling people's assets; they need the collateral, but what is more important is how to use the data available to make a good investment – that is, whether to give out the loan or not."
3-day capacity building workshop
The three-day capacity building workshop on credit appraisals brought together some credit managers of rural banks and microfinance institutions to improve their loan appraisal skills.
A participant and Head of Credit for a rural bank, Mary Owusu, shared her experience with the B&FT:
"I have learnt that collateral should not be the core requirement for granting loans to customers. The most important thing is having good appraisal skills which can help the bank to track repayment of the facility.
"If we are able to do good appraisals using cashflow, statement of affairs and accounts statistics, then we can have good loan portfolio and reduce loan delinquency in the industry."
Christian Narh, another participant, said the training programme has shaped his understanding on how to use cash flow and statement analysis to make a decision or recommendation on a loan.
He added: "I have now acquired more understanding on the effect of poor appraisals on loans that have already been given out. I'm going to put everything that I have learnt here into practice; we have been doing it already, but I have acquired the skills to enhance what we do at the bank".