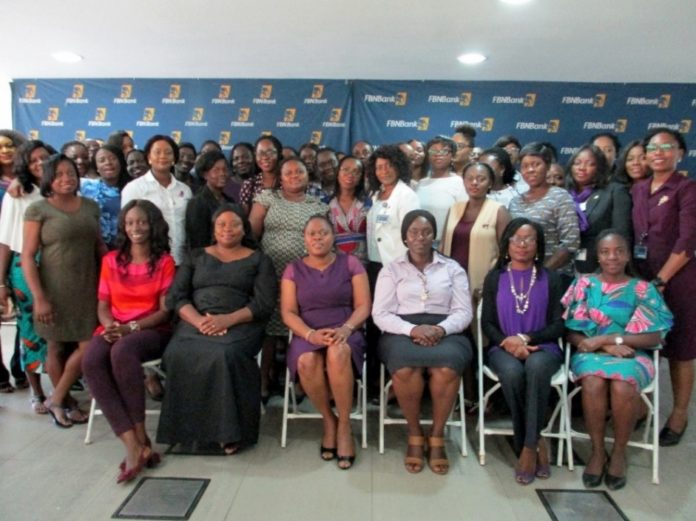 In commemoration of International Women's Day, female staff of FBNBank Ghana Limited were equipped at an engagement session to reach for the top.
The event, which was under the theme think equal, build smart, innovate for change commenced with participants appreciating the achievements of women from various walks of life, setting the tone for the discussion.
Visiting Technology & Services Executive from FirstBank, Mrs. Rachel Adeshina who facilitated the session mentioned that it was necessary for women to strive and ready themselves to get to the top in their chosen career fields. However, she added that their inability to do so would militate against their rise on the corporate ladder.
To turn those issues around, Rachel stressed the need for women to plan, prepare and intentionally challenge themselves to advance in their career, have a growth mindset in connection with their jobs, and to constantly be on the lookout for opportunities to innovate.
Participants expressed elation for attending the FBNBank Ghana International Womens Day engagement session and described it as amazing, complete and empowering. They left with a commitment to strive for the top in their careers and also help nurture dreams and provide support to other women that they have the opportunity to interact with.
The women also pledged to set up a network of female staff at the bank to work towards the new thinking of rebranding themselves while approaching their work-related activities and tasks in a more emboldened way. The event was attended by Mrs. Hannah Brenda Amoateng, a Director of FBNBank. The International Women's Day focuses on women's achievements, promotes the untapped potential and opportunities for women and advocates for an end to violence against women.