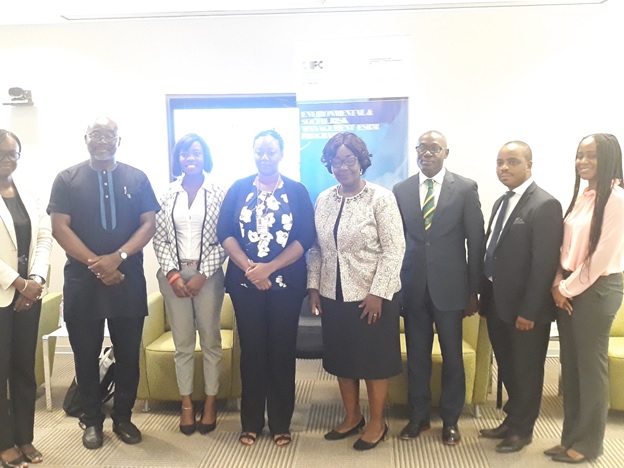 Financial institutions will have to embrace sound environmental and social risk management programmes if their business is to be sustained for the long haul, President of the Chartered Institute of Banking (CIBGH), Patricia Sappor, has said.
To this end, the International Finance Corporation (IFC) has identified the CIBGH as a key partner to the Environmental and Social Risk Management (ESRM) programme. The collaboration's scope will include capacity building of chartered bankers, knowledge management, and awareness-raising on E&S risk.
Speaking at the training programme on ESRM launch in Accra, Mrs. Sappor said: "It is important for financial institutions to appreciate and understand the possible adverse impacts of environmental and social hazards arising out of their clients' business activities, and subsequently identify ways of mitigating such risks".
The risks can include financial liability, reputational and credit risks which can pose a lot of financial challenges if not proactively managed.
Mrs. Sapport also added that it is critical for financial institutions to ensure their client's financial and operational sustainability is not undermined by such adverse impacts.
"They will be able to do this better when they clearly understand the potential environmental and social risks and their implications for their clients and businesses.
"Building the right capacity and skills for practitioners in the banking industry to effectively and systematically assess the environmental and social risks and opportunities in all transactions, before approving a facility for any client, will contribute immensely to managing such exposures," she added.
Fatma Wane, IFC's ESRM Programme Manager for Africa, maintained that the programme is aimed at helping banks to improve the way they manage environmental social and governance risk in the country.
"One of the first aspects of our work is to work with the regulators – Bank of Ghana, Environmental Protection Agency (EPA) – to make sure we can help push the principles or best regulations to help address environmental and social risks in the banks," she said.
The Environmental and Social Risk Management(ESRM) programme seeks to support the increased uptake of environmental and social (E&S) standards by financial institutions (FIs) operating in Ghana, leading to an improvement in the E&S performance of the FIs and their clients in the long run.
Through direct engagement with the regulator in driving standards at the market level, the programme aims to influence regulatory change on E&S policies.
The progamme focuses on building capacity for local consultants, industry associations and training institutions supporting FIs in developing and implementing E&S best practices.
The collaborative activities will include development of curriculums on environmental and social risk management, and sustainable finance for delivery by the CIBGH.
A series of seminars will seek to raise awareness of E&S risk management with chartered bankers and relevant stakeholders. The seminar series supports the industry's sustainable banking efforts by highlighting requirements of the Ghana sustainable banking principles (which have been developed by the Bank of Ghana, Ghana Association of Bankers and the Environmental Protection Agency). The programme is sponsored by the State Secretariat for Economic Affairs(SECO) of Switzerland.