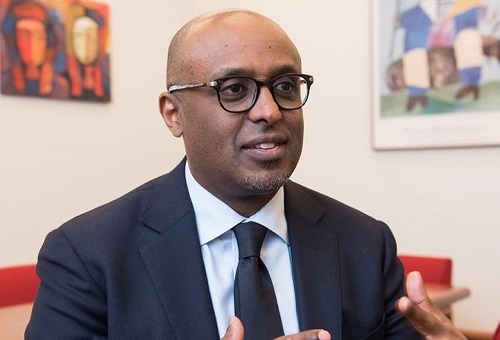 The Director of the African Department at the International Monetary Fund (IMF), Abebe Aemro Selassie, has commended the central bank for its initiatives taken to ensure the financial sector remains vibrant and healthy.
Mr. Selassie said Ghana like every country needs a very healthy financial sector, which is key for propelling it into an emerging market status.
Speaking at a press briefing in Washington, DC, during the IMF/World Bank Spring Meetings, the Director of the IMF African Department stated that it is well-documented what effects a failing financial sector can have on a country's economy.
"We have seen the kind of damage that banks failing, banks and financial sectors failing, can have globally. We just have to look back to the global financial crisis and the turmoil it's caused in countries such as the United States and many European countries," he said.
The banking sector reforms undertaken by the Bank of Ghana affected nine banks, which had their licences withdrawn; seven out of the nine were merged into the Consolidated Bank, Ghana, while two were taken over by GCB.
The reforms have also seen the announcement of a raft of directives – key among them being the increment in minimum capital requirement from GH¢120 million to GH¢400million which came into effect on December 31, 2018.
According to Mr. Selassie, so long as the move by the central bank is geared toward creating a stronger financial sector, it has to be commended – especially as this is tired to overall health of the economy.
"I cannot stress enough how important having a healthy financial sector is. Banks that are robustly capitalised are a source of strength for an economy, and so that's been the broad direction in which the financial sector-clean up in Ghana has been going," he added.
However, commenting on the impact of the Bank's clean-up on jobs, he said: "Where it has entailed some job losses, of course, finding ways to minimise those will be important; but I think that tends to be very bank-specific issues".
More clean-ups
The Bank of Ghana earlier this month revealed that it has requested financial support from the Ministry of Finance to clean up the microfinance and savings and loans industry, to save thousands of depositors from losing their funds.
About 705,396 depositors in distressed or collapsed microfinance companies and rural and community banks (RCBs) risk losing a total of GH¢740.5million if their financial resources are not shored-up swiftly.
The GH¢740.5 million represents deposits currently locked up in the 272 rural and community banks and microfinance companies which were either in distress or had folded-up as of last year.
Speaking at the Monetary Policy Committee press conference in Accra, Governor of the BoG Dr. Ernest Addison said the clean-up cost is estimated at about GH¢700-million – which government is ready to make available from the second quarter of this year to begin the cleaning up the sector.