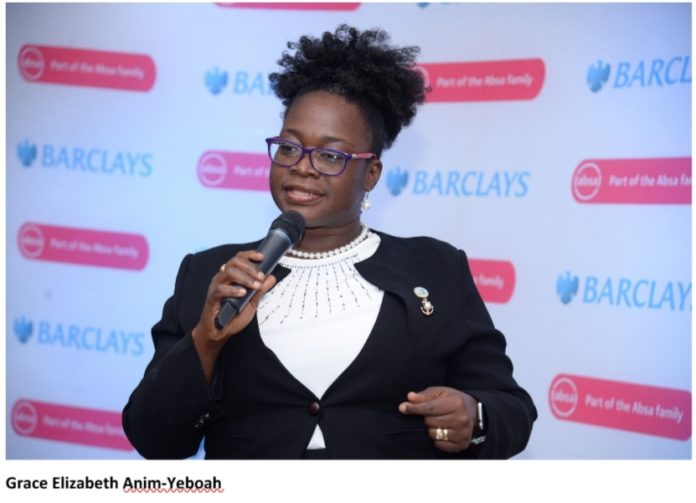 Banks can do a lot more for Small and Medium Enterprises (SMEs) if they have a clearer understanding of their operations and are ready to journey with them, Mrs. Grace Elizabeth Anim-Yeboah, Director-Business Banking Ghana at Barclays Bank, has said.
"I believe that as an industry a lot is being done; but there is a lot more that we can do to drive growth in the SME space. What is critical to doing that is taking the time to understand these SMEs," she told the B&FT in an interview as the world marks SME Day today.
She added that banks must see themselves as enablers in order to adequately support SMEs growth, because with the right financial and operational support the SMEs of today can easily become the multinationals of tomorrow.
"It is always easy to say SMEs' problem is access to finance, but I have seen finance given in the wrong form, time and structure and it killed the business. What is important is making sure that the relevant solutions are provided to clients and SMEs at the right time and in the right structure.
"Beyond that, as well, is the opportunity to work as enablers and travel the journey with these SMEs. Today's SMEs will be tomorrow's multinationals, and that is why I believe there is room to do so much more," she added.
Despite SMEs being the biggest employers and largest contributors to GDP, these businesses are also some of the most neglected in terms of financial support from banks due to the associated risks. Some of these risks include lack of corporate governance, limited skills and capacity, and non-availability of suitable technology as well as many more.
Local content
She believes that with the enforcement of local content policy and growing industrialisation, local businesses will be able to own a significantly larger portion of the economy.
"Due to the fact that this economy is import-driven, what it means is that entrepreneurs make money but the bulk of it is taken out of the country. The benefit we should have been seeing ploughed back into the country is not there, and that is why I am excited about the local content conversation.
"When we begin to move into industrialisation and greater value added of primary commodities, that begins to change. To move there, there is a need for capacity building; and under our enterprise supply chain development we provide structured financing to enable entrepreneurs to buy shares in some of these businesses. So there is a local ownership, which then begins to build," she added.
Regulation.
Touching on regulation, she believes that as more action is put to the words and regulation deliberately supports local content there will be certain areas in the economy clearly assigned to Ghanaian entrepreneurs.
"We are having conversations with the regulator around how we enable the financial sector to do more than what we are doing today to drive the growth of SMEs, but funding is not the only thing needed. I would welcome new guidelines that provide clear exemptions, with a framework that can aggressively support SMEs.
"We are in a space where there is a lot of consultation, and the presence of that consultation gives hope. There are a lot of discussions around how to help small businesses and make life easier for financial service providers who are actively participating in that space," she added.