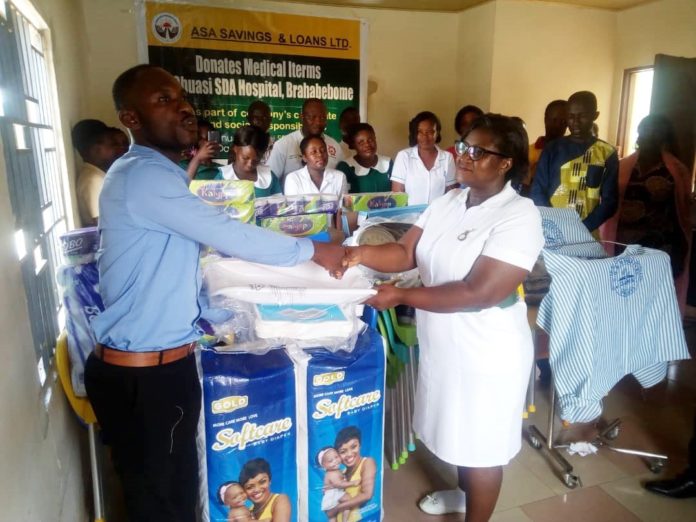 ASA Savings and Loans has donated some medical equipment and food items to enhance healthcare delivery for patients of the Obuasi SDA Hospital at Brahabebome in the Obuasi Municipality of the Ashanti Region.
The items included bedsheets and pillowcases, diapers, four sets of kidney dish, steriliser, adult and infant scales, and plastic chairs among others according to officials of the company, and were given as part of ASA's corporate social responsibility activities.
It also forms continuous support for needy and semi-urban settlements. ASA Savings and Loans over the period has embarked on a number of initiatives including construction of mechanised boreholes for communities to access, and periodic health screening exercises with supply of free drugs. It also supports orphanages and educational facilities among others across its operational areas.
The Bekwai Area Manager of ASA Savings and Loans, Mr. Eugene Owusu Biney who presented the items on behalf of the company, noted that the gesture was in line with the company's commitment to enhance the livelihoods of existing and potential clients as well as people in the Municipality.
The Nursing Officer in charge at the facility, Juliana Abeka – who received the items on behalf of the hospital, expressed gratitude for the gesture. She observed that the items will go a long way to help in caring for patients at the hospital.
She however used the occasion to also call on other benevolent organisations to emulate the example set by ASA Savings and Loans, noting that healthcare should be a concern for all.