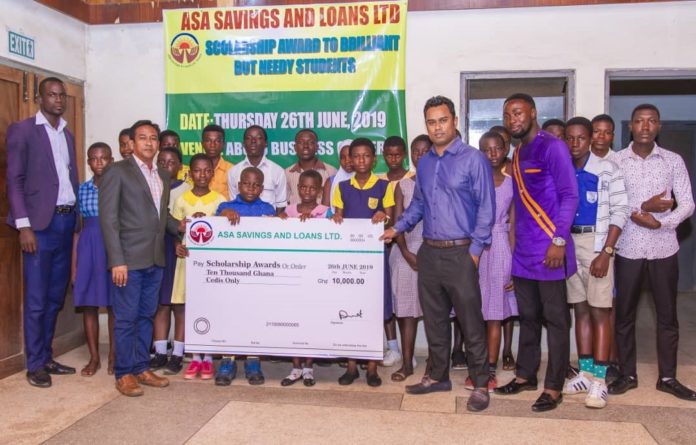 ASA Savings and Loans Limited (Aboso Business Centre) in the Tarkwa-Nsuaem Municipality of the Western Region has awarded scholarships to some students of their clients.
The company, presented GH¢10,000 (GH¢500 per student) for 20 students who are in Primary School Five to the Senior High School (SHS) level within the Tamso, Bankyim, Brahabobom, Senyakrom and Nsuta communities, all in the company's operational area.
Presenting the scholarships, Mr. Imarat Hossain-Area Manager of Aboso Business Centre of ASA Savings and Loans Limited, explained that the award forms part of the company's corporate social responsibility.
"We realised that some of our clients who are into small enterprises had difficulty in paying their children's school fees for them to further their education; so, we decided to support and lessen the burden on them," he said.
According to him, education is a major pillar of the company's CSR's project. "Without education, how can these beneficiaries be able to read and write, as well as share meaningful ideas and become responsible citizens?"
Also, he said, education serves as a bedrock for every nation, and supporting brilliant but needy students to put smiles on their faces is encouraging.
"This year, our branches across the country continues to support our clients in terms of loans to support and expand their businesses; and also present items to some needy institutions among others," Mr. Hossain said.
He urged the students to take their education seriously; parents, should also provide their needs so they will be able to learn and produce good results.
Madam Rebecca Anderson, on behalf of the beneficiaries, expressed gratitude to ASA Savings and Loans Limited for its continued support, and urged other companies operating in the area to also offer assistance to those in dire need.