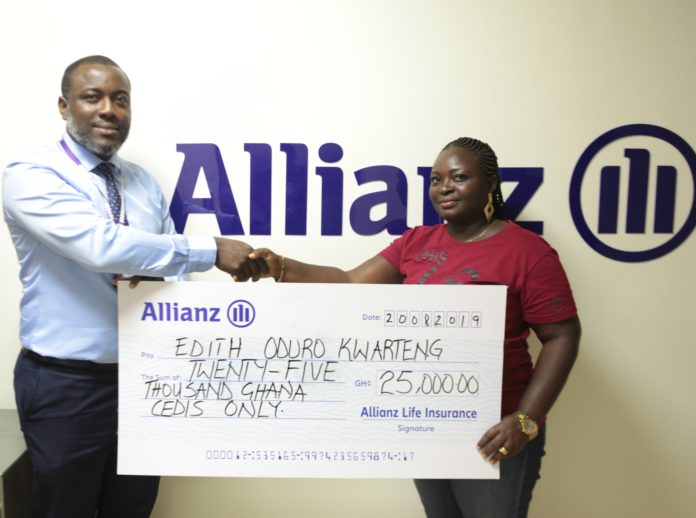 Since its inception in 2018, Allianz Life has paid claims amounting to over GHS1,300,000. Almost every claim was paid within 48 hours of presentation of all necessary documentation relevant to claims processing. Allianz Life has shown true grounding in the Insurance space by consistently delivering on its key promise to find every possible reason to pay claims.
During a claims presentation ceremony, the Head of Claims, Nicholas Normeshie presented a death benefit claim of GHS25,000 to Edith Oduro Kwarteng, a beneficiary to a deceased client who expressed her profound gratitude for the support. As said by the CEO of Allianz Life Insurance, Gideon Ataraire, during the presentation of the cheque to the beneficiary, "It is for moments like this, that we exist – to pay claims promptly as part of our obligation towards supporting your family's financial needs, and also to take care of funeral expenses during the loss of your loved one. We are your companion in this journey of life."
At Allianz Life we believe that families must not suffer more than grief when they lose a breadwinner or family member. This is why Allianz Life has simplified claims payment for customers by putting in place digital channels for paying claims.
Claims settlement in the Ghanaian insurance industry can be frustrating for customers and this also contributes to the low insurance penetration (about 2% of Ghana's GDP) in the country. Allianz Life Ghana is therefore building a good reputation for itself as a result of its prompt claims payment.
Allianz officially launched its life insurance operations on 24th May, 2018. Despite its relatively new existence on the Ghanaian life insurance market, the company is already building a great reputation in the insurance space for its excellence in service delivery.
Allianz Life Ghana is a part of the Allianz Group, the world's no. 1 Insurer according to the newly released 2019 Interbrand Global Brand Rankings, which saw the Allianz brand value increasing from $10.8bn in 2018 to $12.1bn. Allianz has more than 92 million retail and corporate customers globally and is one of the world's largest investors, managing around 673 billion euros on behalf of its insurance customers. In 2018, over 142,000 employees in more than 80 countries achieved total revenues of 131 billion euros and an operating profit of 11.5 billion euros for the group.