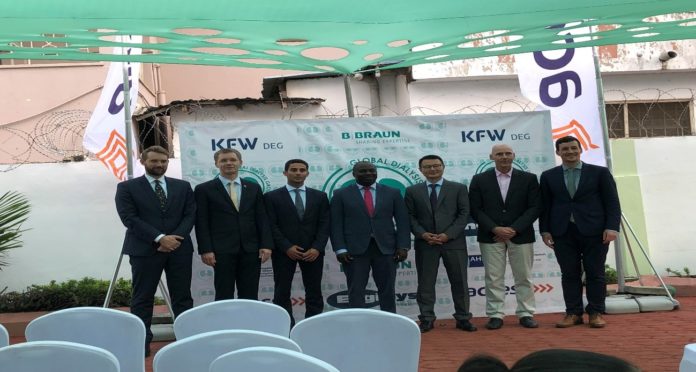 The German Desk Ghana-Financial Support and Solutions, which sits within Access Bank, has successfully provided financial assistance to Engisys Limited to set up a Renal Dialysis Centre in Ghana.
The Renal Dialysis Centre has approval from the Food and Drugs Authority (FDA) and will operate under the Global Dialysis Group Limited in Accra, a subsidiary of Engisys, to serve the general public. The global dialysis group is a 100 percent subsidiary of Engisys.
The centre has professional doctors and nurses from Korle-Bu Teaching Hospital, who will work at the facility.
Managing Director of Engisys Limited, Nana Yaw Appiah, indicated that the new facility will play a crucial role in providing more access to people who require treatment at dialysis centres, as there are only a handful in the country.
He said: "Over the past 15 years, we have been working to redefine customer care in Ghana using our deep knowledge and expertise in clinical engineering, installation of important medical equipment and strategic partnerships to improve the quality of healthcare in the country. Today, we are excited that our financing partners, in particular Access Bank and the DEG through The German Desk Ghana, have supported us to establish this modern renal centre here in Ghana."
Olumide Olatunji, Managing Director of Access Bank Ghana, indicated that the German Desk Ghana-Financial Support and Solutions is undoubtedly giving Small-Medium Enterprises (SMEs) the needed support to help their businesses meet their obligations to clients and customers. He said this when he extended congratulations to Engisys Limited and Global Dialysis Group.
He said: "Access Bank's expertise in providing customer need-based solutions across all its operating countries, including Ghana, has been at the core of our business model. Through a harnessed international partnership with renowned agencies, we are helping our customers access more than banking to stay competitive in their various sectors".
Engisys Limited is a Biomedical Engineering company with deep knowledge in clinical engineering, supply, installation and maintenance of medical equipment and high-quality medical consumables. It delivers products like medical imaging, renal dialysis, clinical laboratories, infection control and medical gas.
Sebastian Barroso da Fonseca, Head of German Desk-Financial Support and Solutions at Access Bank, said as part of the cooperation, DEG puts its network at the disposal of the respective local partner bank – Access Bank Ghana; and where necessary provides it with additional long-term capital, allowing them to offer financing assistance for local customers of German companies. Neighboring markets are also to be covered with the partners banks' networks.
The German Desk was established during the German African summit in February 2019, and it was during that time the German Desk was opened within Access Bank Ghana. "The German Desk Ghana, was approached earlier by Global Dialysis and Nana Appiah, and we had discussions with B. Braun and Nana Appiah to seek a solution that Access Bank through the German Desk can provide; and we very quickly saw a potential growing market and something very sustainable in this healthcare area, and this was the reason we decided to continue and follow-up with this client," he told the B&FT.
The German Desk – Financial Support and Solutions in Ghana is the second of its kind between Access Bank and DEG. The first one has been active in Nigeria since October 2017, where the new services have been very well received.
The desk has been created to close the financing gaps hampering trade activities between German companies and their local partners in Ghana. It enjoys the support of the Federal Ministry for Economic Cooperation and Development (BMZ), the DIHK and the network of German Chambers of Commerce Abroad (AHKs) and DEG. The global network of German Desks spans from Peru via Kenya and Nigeria to Indonesia and Bangladesh.