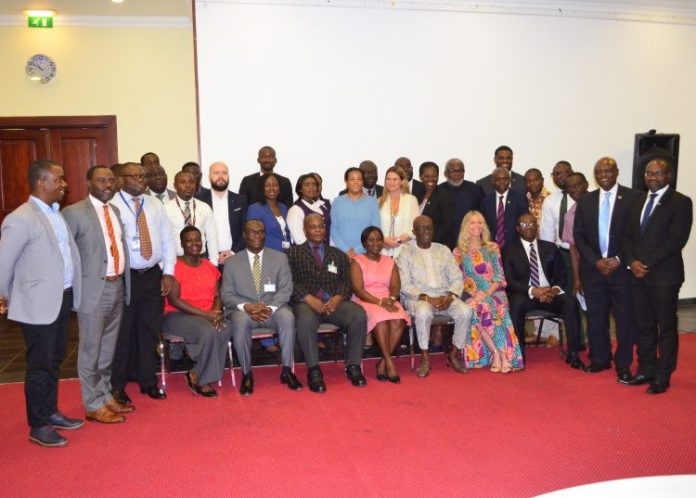 Aviation Minister, Joseph Kofi Adda, has assured all stakeholders in the aviation sector that government is committed to building a business-friendly economy and will continue to create an enabling environment for all airlines to succeed in regard to realisation of the hub vision.
" A lot of effort is being made to promote the sector through modernising our airports in the country, establishment of a home-based carrier, and various interventions aimed at improving connectivity, policy regulations issues, protection of airport lands and navigational equipment, and closer collaboration with the tourism sector among others," he said.
The 3rd AviationGhana Stakeholders' Meeting is organised by AviationGhana, an aviation-oriented PR organisation and online news portal, in collaboration with the Board of Airline Representatives Ghana (BARGH) and under the auspices of the Aviation Ministry headed by Mr. Joseph Kofi Adda.
The objective of the annual meeting is to bring stakeholders in the aviation sector under one roof to discuss issues of mutual interest. This year's meeting was under the theme 'Building Synergy for Sustainable Growth in Aviation'.
He added that: "Ghana's stable democracy coupled with confidence entrusted in President Nana Addo Dankwa Akufo-Addo has attracted a number of interested investors. Some of these investors have expressed their willingness to partner government in development of the aviation sector".
Building assets of the airports operator
Mr. Adda revealed that his ministry is open to partnering any private investor with innovative ideas about how maximise income from on-ground aviation infrastructure.
He added that: "Government will look at any kind of arrangement that will improve the value of assets that we have in the nation. Bear in mind that the president has made it clear he's here to protect the public purse – and it's not just about the money, about the treasures, but even the assets. So, if there is any state-owned asset that we have to protect, it will be our duty to enhance the value of that asset. So, we will examine any kind of arrangement, any kind of business plans, any kind of discussions, any kind of negotiations, whoever brings it".
He said his ministry will work on adding to assets of the GACL: "How many times has the Ghana Airport Company Limited (GACL) paid dividends to the nation? For the last five years, have they paid any dividends to the nation? If there's going to be any engagement with the Airport Company that will enhance its value and enable them to pay dividends to the state, it will be something that is good for us to look at. But at this stage, nobody has formally come to me to talk about what we need to do to privatise".
Kotoka Airport not up for privitisation
Mr. Adda dismissed reports that the Kotoka International Airport is to be given out for a private firm to manage in place of the mandated state-owned airports operator, the Ghana Airports Company Limited (GACL).
"I haven't seen anything credible on that. I'd like to get something credible from whoever is putting this out, and they have to explain to me what they mean by privatisation or selling. I don't know where it's coming from. I have even heard that it's being said that they are selling Ghana Airports. I don't know who you're going to sell it to, who's going to buy and for how much. I'm surprised at them."
Finance Ministry to meet airlines over tax concerns
The Finance Ministry is to meet airlines over concerns raised about various import taxes  they have had to contend with, and  the level of corporate income taxes paid by airlines.
Deputy Finance Minister, Kwaku Kwarteng speaking at the 3rd AviationGhana Stakeholders Meeting said: "We would like airlines to provide us with the right data about the taxes in question. We also know that you also don't pay enough corporate taxes. We will meet with the airlines and find a mutually accepted solution."
Airlines commit to working with gov't
The President of the Board of Airline Representatives-Ghana (BARGH), Gloria Wilkinson Mensah, said airline operators are committed to working closely with the Aviation Ministry to help grow the industry in Ghana.
She added that airlines will compile the relevant data and submit same to the Aviation Ministry in time for a meeting with the Finance Ministry about the tax-related concerns raised.
Airlines appealed to the Ghana Airports Company Limited to consider bringing back the shuttle service that will make it easy to move between terminals for operators.
Mr. Yaw Kwakwa, Acting Managing Director of the Ghana Airports Company Limited (GACL), assured operators that the service will resume in a matter of days.