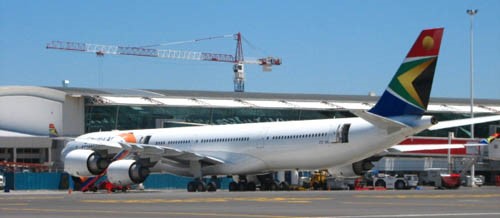 In September last year, President Nana Akufo-Addo of Ghana declared and formally launched the "Year of Return, Ghana 2019" for Africans in the global diaspora. This gives all Africans in the diaspora new found motivation to engage further with their families in their country of origin on the continent.
South African Airways (SAA) is playing a pivotal role by enabling African Americans, and other Africans who are yearning for their homeland, to use the efficient gateway of Ghana, where they are to be welcomed back home. This will enable them to interact with their rich histories and culture at a personal level.
It has been more than 400 years since the first shipload of slaves landed in the Caribbean's, America's among other countries up to 40 million Africans out of their will were taken to the Americas, being traded as free labour to work on plantations that made fortunes for the slave owners.
The slaves made their way to the dreaded ships through "the door of no return", such as the one at Elmina Castle in Ghana, to be forced into a life of slavery. That was the last time the slaves ever set foot on their motherland, before being permanently separated from their families and home country.
Learning about their origins and families back in their country of origin has been an emotional experience for the African Americans who chose to go home. SAA has never been prouder than in this year when our offering – to serve as the bridge that connects our African American sisters and brothers, as well as other African descendants in the USA with the motherland – was so well received.
SAA also recently scooped the Airline of the Year Award at the 2018 Ghana National Tourism Awards.
SAA operates daily flights between Johannesburg and Accra with five of the flights continuing onwards to Washington; and two flights operating via Dakar, Senegal, to Washington Dulles.
There are also convenient connections to and from over 100 cities across the USA and Canada through its Star Alliance partner United Airlines via Washington Dulles International Airport.
The Memorandum of Understanding (MOU) with Africa World Airlines (AWA), SAA's Ghanaian partner has enhanced Connectivity from Accra further into West Africa.
SAA's flight schedule is as follows (all times are local):
Johannesburg -Accra – Washington D.C.
SA #209

Monday, Tuesday, Wednesday, Friday,

Sunday

SA #210

 Monday, Tuesday, Wednesday, Thursday, Saturday

Depart Johannesburg, South Africa: 6.30PM
Depart Washington D.C – IAD: 5.40PM
Arrive Accra, Ghana: 10:35PM
Arrive Accra, Ghana: 8:10AM +1
Depart Accra, Ghana: 11:35PM

Arrive Washington D.C – IAD: 6.25AM +1

Depart Accra, Ghana: 9:10AM +1

Arrive Johannesburg, South Africa: 4:55PM +1