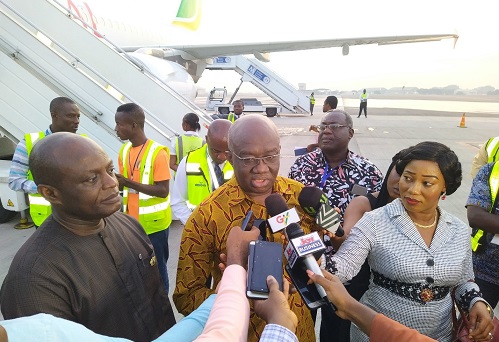 The revival of hitherto defunct state-owned airlines in the sub-region over the past four years has stoked the debate about when Ghana will re-establish its own national flag-carrier in a major move that will make clear government's desire to establish Kotoka International Airport as a hub in the sub-region.
Air Senegal is the latest carrier in the sub-region to take to the skies. It is funded by the Senegalese government as part of its plans to create a real regional air hub around Blaise Diagne International Airport in the West Africa nation.
The maiden Air Senegal flight from Dakar to Accra landed at the Kotoka International Airport (KIA) today Monday, Dec 16, 2019 at exactly 5:33am. The flight had 62 passengers on-board – 7 in business and 55 in economy. The airline is expected to operate four weekly flights between the two cities.
The successful relaunch of Air Senegal follows similar endeavours by Air Cote d'Ivoire and Air Burkina. Air Burkina, now wholly owned by the Burkina Faso government, operates out of its base in Ouagadougou Airport. It serves various domestic destination as well as regional services to Togo, Benin, Mali, Niger, Côte d'Ivoire, Senegal and Ghana.
Ghana's Western neighbour, Cote d'Ivoire, has also been operating its newly-revived flag-carrier since 2012.
The situation is similar in East Africa where there is a revival of defunct carriers such as Rwandair and Air Tanzania – which operates a fleet of 9 aircraft and is 100 percent owned by the Tanzanian government.
These developments have raised questions as to when Ghana is going to finalise various processes to get national colours-adorned aircraft take to the skies.
Aviation Minister, Joseph Kofi Adda, speaking to the B&FT on the sidelines of the maiden Air Senegal launch said: "What it means for us is that we are all coming back up alive. In other words, the airline industry went down in Africa but there has been a resurgence of airlines in the past two or so years. Air Senegal was flying to Ghana (but collapsed), so they are here to signal to us that they are active".
Mr. Adda indicated that Cabinet is currently perusing various proposals for the establishment of a new home-based carrier. "Ghana Airways went down, Ghana International Airlines also went down. We have heard so much about the national carrier and we have gotten to a stage where we are now waiting for Cabinet approval. Once that is done, we can also boast of flying to Dakar or any other part of the world."
Feasibility studies conducted by the Aviation Ministry, which is spearheading this project, show a huge potential for this new enterprise. The feasibility study points to the West Africa sub-regional market as being grossly underserved. This informed the business plan for the proposed new home-based carrier.
Ownership & Management
The other pressing issue is ownership and management structure. First, a company must be legally set up with the shareholding structure clearly stated. As it stands now, that is yet to be finalised. Government has stated its desire to only hold a 10 percent stake in the new entity and allow private investors to partake in this new project. Again, a strategic investor in Ethiopian Airlines was mooted – but the final decision is yet to be taken.
Cabinet, according to information available to B&FT, is considering three options: partner a local airline such as AWA to establish the new home-based carrier; seek a strategic investor with the needed financial muscle, expertise and world-wide reach such as Ethiopian; or state-funded and owned, but management contract is given to an internationally renowned airline or group that reports to a board. These options are all designed to insulate the entity from divisive politics, favouritism, nepotism and all the other 'isms' that led to collapse of the erstwhile Ghana Airways.