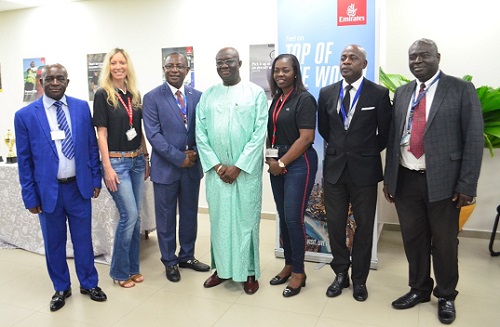 Aviation Minister, Joseph Kofi Adda, has assured aviation stakeholders of government's support to ensure safety at all airports in the country and to make the travelling experience safe and stress free for all passengers.
Ghana is one of the few countries in the sub-region with a higher safety record, having recorded much less incidents and accidents over the past half-decade. This earned the country an Effective Implementation (EI) rate of 89.89 per cent; knocking South Africa off the perch as the highest scoring country in the previous year.
Speaking at this year's Ghana Airports Company Limited's (GACL) Safety & Environment Week 2019 held at the Kotoka International Airport, he noted that:    "Safety and security within all airports and aviation installations are paramount. The Ministry will continue to support the GACL and the Ghana Civil Aviation Authority (GCAA) maintain the high standards and improve on what he been achieved."
The need to strengthen the country's aviation system is paramount, given the increase in on-ground infrastructure, passenger throughput, and the number of airlines operating in the country.
Additionally, the monetary impact of poor safety on the organization and the potential for compromising the safety of aircrews and the flying public makes it important for prioritizing safety on-ground and onboard.
Research by Flight Safety Foundation found that around 27,000 ramp accidents occur every year, costing at least US$10 billion annually.
Most common causes of airport injuries, the research noted, include: Elevator and escalator accidents, Slipping and falling at an airport due to improperly installed, poorly maintained flooring and spilled food or beverages, Tripping and falling on bunched up carpeting, debris or broken stairs, Defective airport equipment such as luggage conveyor belt, and collision with airport shuttle among others.
Currently 38 airlines operating in Ghana and they connect directly to 30 different destinations around the world.
International passenger numbers, as at September this year, had increased by 6.7 per cent, compared to the same period last year.
Emirates Sponsorship
The 2019 Safety & Environment Week, held under the theme: Safety In Collaboration, Upholding a high level of safety standards, was sponsored by Dubai-based Emirate Airlines.
Silvia Baah, Station Manager of Emirates Airlines, noted that as an airline committed to safety in every facet of their business, they deemed it fit to partner the GACL to collectively ensure a safe airport environment for passengers and airport staff.
FOD Walk
Stakeholders in the aviation sector also embarked on a Foreign Object Debris (FOD) walk along the runway at Kotoka international Airport, as part of the Safety Week, to collect any foreign objects—loose metals, trash and rocks– found in the area in and along the runway so as to prevent any potential incidents and accidents.
The purpose of a FOD walk was to collect FOD materials that have accumulated, second, to raise awareness about the kinds of FOD that can accumulate and the challenge of staying on top of FOD prevention amongst stakeholders.