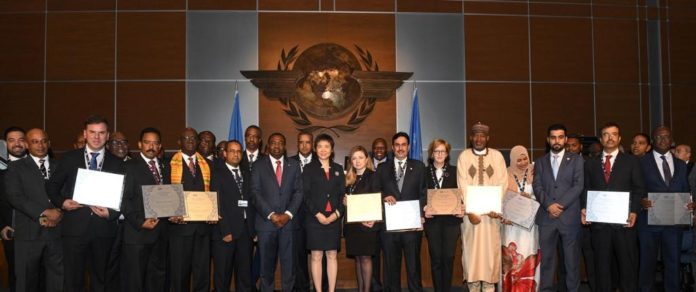 Aviation Minister, Joseph Kofi Adda, has told the on-going International Civil Aviation Organisation (ICAO) 40th Triennial Assembly in Montréal, Canada that the country's new home-based carrier 'should be operational soon.'
His comments at the high level assembly indicates that government and its strategic partner for the project, Ethiopian Airlines, have a working shareholders agreement, and the necessary financial and regulatory agreements in place in preparation for the commencement of operations of Ghana's new home-based carrier.
The leading names up for consideration, according to B&FT sources are: Akwaaba, Akwaaba Air, Ghana Airlines and Akwaaba Airlines
Mr. Adda said: "The uptake in these projects is in line with government's vision towards repositioning Ghana as a major aviation hub in Africa. The establishment of a home-based carrier to ensure that Ghana remains on the global aviation map is currently being pursued through a strategic partnership arrangement with an established airline which should be operational soon."
He also updated the Assembly on the crucial importance of the establishment of a Single African Air Transport Market (SAATM) to continent-wide efforts to enhance air connectivity and the sustainable development of air transport, stressing how the historic implementation of the African Continental Free Trade Area (AfCFTA) would create a tariff-free continent in support of local business growth, Intra-African Trade, accelerated industrialization and job creation.
While acknowledging this remarkable progress, Mr. Adda reminded his audience that "at a time that ICAO recognizes that Africa presents the highest potential for growth out of all of the UN aviation agency's global regions, air connectivity in the continent should not be so poor that people travelling to parts of Africa have to fly into Europe to be able to connect flights into their final destinations back in Africa."
"By the year 2022, when the next ICAO Assembly will have taken place, anyone flying from anywhere in Africa to everywhere in Africa, should be able to do so within Africa in less than 24 hours, without leaving the African airspace."
Ghana grabs two highly-rated awards
In a related development, Ghana received two awards at the on-going International Civil Aviation Organisation (ICAO) 40th Triennial Assembly in Montréal, Canada.
The first of the UN agency's award, known as the ICAO Council President Certificate in Aviation Security, was in recognition of Ghana's progress in resolving aviation security and oversight deficiencies, and the country's commitment to the effective implementation (EI) of its Standards and Recommended Practices (SARPS).
The second award, the ICAO Council President Certificate in Aviation Safety, was in recognition of strides Ghana made in 2018 towards the resolution of safety oversight deficiencies and improvement in the EI of related ICAO SARPs.
In April this year, Ghana obtained an EI rate of 89.89%, the highest by an African country, following ICAO's conclusion of its Coordinated Validation Mission (ICVM) in Accra.
The two awards, Ghana's first since the ICAO Council established the Council President Certificates in 2015, were received by the Minister for Aviation, Joseph Kofi Adda, who was joined by Ghana's High Commissioner to Canada, Nii Ayikoi Otoo; the Director General of the Ghana Civil Aviation Authority (GCAA), Ing. Simon Allotey; and the Acting Managing Director of the Ghana Airports Company Limited (GACL), Yaw Kwakwa.