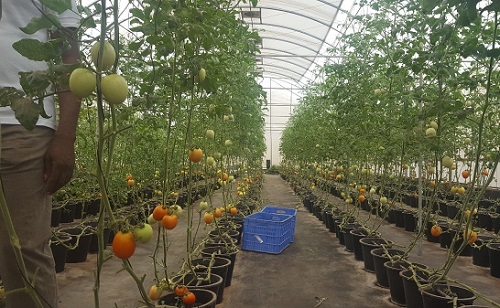 Ghana has no excuse for importing vegetables that can be produced domestically, Danish Ambassador to Ghana, Tove Degnbol, has said.
The country imports an estimated 120,000 metric tonnes of onions valued at GH¢653million and 84,000 metric tonnes of tomatoes at GH¢762million annually for local consumption – despite the existing suitable conditions necessary for cultivation of the said vegetables.
"It is quite deplorable to see the volume of vegetables imported into Ghana, a country which has all the conditions for being a good vegetable producer," the Ambassador told B&FT.
She spoke during a field-trip to Daily Farms Limited, a private-public sector partnership greenhouse vegetable farming project in Dawhenya in the Ningo-Prampram district of the Greater Accra Region. The farm is receiving funding and technical support from the Danish International Development Agency (DANIDA) through the Skills Development Fund (SDF).
The Ambassador questioned why staple vegetables like tomatoes, cucumber, onion, hot and green peppers, among others which can be produced locally, are being imported from Ghana's neighbours such as Burkina Faso and Togo.
Local farmers, on the other hand, have complained about the lack of irrigation facilities and a guaranteed ready-market as major issues for their inability to produce more.
To boost local production, local farmers have called on government to provide good irrigation infrastructure and storage facilities across the country; and above all, a guaranteed market to boost local vegetable production and create more jobs.
Daily Farms—an SDF-supported project
To take advantage of the market opportunities, Daily Farms approached the Skills Development Fund – a public-funded initiative with support from the government of Denmark – for support, particularly training in greenhouse farming technology.
The request was approved for a seven-month period – November-May, 2019 – and SDF engaged a Kenyan institution to help train Daily Farms' staff.
According to the farm's management, the company has recorded significant improvements since SDF's intervention, including an increase in yields for all the crops under cultivation.
For instance, the company said yields for tomatoes increased from 3.8kg per plant to over 10kg per plant; bell pepper from 3.5kg per plant to 10kg; and cucumber from 3.2kg to 11kg per plant.
Commenting on Daily Farms' module, the Ambassador said she was impressed with the progress it has made in just a few months.
She added: "I am deeply impressed; they have recorded an increase in yields in just a few months of up to 10 times for tomatoes and cucumber.
"I am also pleased with the fact that they are growing the vegetables with as little insecticide and inorganic fertiliser as possible. This is very promising, because it shows how good business can go hand-in-hand with environmental care."
She said the module, if rolled out in all regions of the country, will create thousands of jobs and help to curb Ghana's increasing food import bill.
"At the end of our support, we want see much more vegetables produced in Ghana instead of importing from neighbouring countries. This will make the population healthier and also create a better trade balance because imports will go down," she added.
On his part, SDF's Fund Manager, Ebenezer Ato Simpson, disclosed that apart from helping the company to increase its productivity and profits, the SDF is also funding the development of an innovative training curriculum for the country.
He said the training curriculum will be embedded with three technical farm institutes: Adidome Farm Institute in the Volta Region; Asuansi Farm Institute in Central Region; and Wenchi Farm Institute in Brong Ahafo Region.
"When this is done, the country will be assured of available technical expertise at all levels of greenhouse vegetable production," he said.
"So, I think this is a very encouraging and commendable project that we hope to see more vegetables being produced in Ghana."