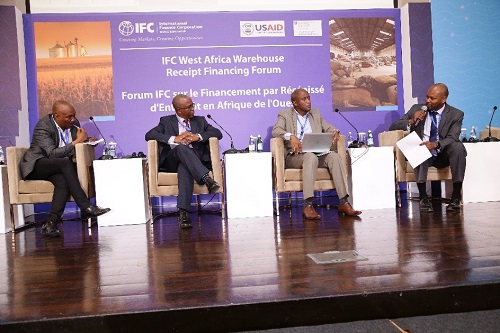 Warehouse Receipt Financing (WRF), a system operated by the public or private sector for managing the insurance, finance, and trade of warehouses issued by storage operators that are licensed to participate in the WRS, has been touted to boost agriculture growth
Warehouse receipt financing allows farmers and agribusiness SMEs to use agricultural goods stored in certified warehouses as collateral to access credit from financial institutions. Similarly, warehouse receipt systems can help address access to storage challenges faced by the agriculture sector
This system is said to improve finance to the agriculture sector that will further increase mechanical farming methods which hitherto have been considered to be a risky financial investment by the banks.
These revelations were made at a two-day IFC West Africa Warehouse Receipt Financing Forum, held at the Kempinski Gold Coast Hotel, Accra Ghana and attended by about 100 representatives from nine West African countries.
International Finance Corporation (IFC), Country Manager for Ghana, Burkina Faso, Benin, Niger and Togo, Ronke-Amoni Ogunsulire, indicated that improved access to finance helps farmers and agribusiness companies source inputs, make required investments, and improve and expand their operations. However, many of these farmer businesses have been held by a lack of collateral, limiting their ability to access loans hence the introduction of WRS to address such challenges.
"IFC, through its Global Warehouse Finance Program, is helping governments introduce and implement warehouse receipt systems, benefitting hundreds of thousands of Africa's farmers.
"A very important entity the success of this initiative is government, so I am very pleased with governments support because we have to ensure that the laws and right regulations are in place and these is what the government of Ghana is working on and IFC is in support.
"Another important factor is commodity exchange and we the government of Ghana has taken a bold step to put in place commodity exchange which will help these receipts," she said.
Chief Executive Officer, Ghana Commodity Exchange (GCE), Dr. Kadri Alfah, indicated that Ghana has about 3300 farmers participating in the system who are able to bring their commodities to the GCE certified warehouses across the country for testing, grading and certification then given warehouse receipt.
"With the warehouse receipt, they are able to trade on the exchange platform at the time that they feel that the prices are right for them. Last week we also launched the Warehouse Receipt Financing, so now, Ghanaian farmers can use their receipt as a collateral to get loan from commercial banks.
"We have about 12 banks that have registered with us and any farmer who has a receipt from us can access it. We have 10 warehouses and we are currently dealing with cereal commodities such as maize, soya, sorghum and the banks can come and finance these commodities" he said.
In the last five years, IFC has committed about US$2 billion in investments and advisory services to help Ghana boost investments, provide energy, use its natural resources, expand trade, leverage the new digital economy, and finance SMEs. It has also extended more than $200 million to local banks for them to on-lend to SMEs
How WRF works
Warehouse Receipt (WR) is a document of title issued by a storage operator to a depositor, it defines the quality, quantity and location of the commodity, and terms of storage.
The quality and quantity of the commodity on the WR are guaranteed by the storage operator, thus compensation is provided by the storage operator if quality and quantity vary from the WR.
The WR can be pledged by a depositor to a financier as collateral security against a loan, and is typically defined as a negotiable instrument under law to facilitate liquidation.
The promise of WRF is to expand access to collateralized commodity finance for lower value commodities, smaller transaction sizes and smaller players by sharing the costs of storage, certification and control across multiple borrowers that the market is not currently serving.
About IFC
IFC is a sister organization of the World Bank and member of the World Bank Group. It is the largest global development institution focused on the private sector in emerging markets. We work with more than 2,000 businesses worldwide, using our capital, expertise, and influence to create markets and opportunities where they are needed most.