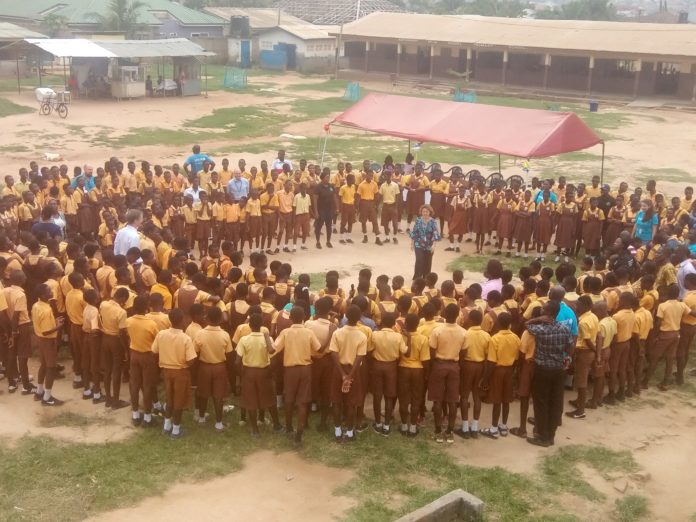 The United Nations International Culture and Education Fund (UNICEF), in collaboration with the German Embassy, Green Republic and Ghana Education Service (GES), embarked on a tree planting exercise to commemorate World Environment Day on 4th June 2019.
The tree planting exercise took place at the Akporman Basic School, near Abokobi, Accra and Dakpema M/A Primary A & B, Tamale, and among others was aimed at inculcating in students a sense of environmental empathy and protection at an early age.
Speaking to the theme of this year's event, 'Air pollution in Ghana: Causes, Effects and Solutions', the UNICEF Country Representative, Anne- Claire Duffay, reiterated that UNICEF is committed to increasing its contribution to environmental sustainability – given the importance of the issue to both children and global commitment to the Sustainable Development Goals (SDGs).
"Reducing air pollution is one of the most important things we can do for children to ensure they grow and develop healthily.
"The benefits of reducing air pollution however extend well beyond child-health actions, and investments that reduce air pollution but can also help grow economies and combat climate change are also necessary.
"We are stepping-up efforts to systematically green the organisation, and therefore have introduced measures such as waste recycling, carpooling and using more fuel-efficient vehicles, and eliminating single-use plastic bottles and cups," she said.
According to UNICEF, it has discovered that the day-to-day paper consumption of its Ghana offices is equivalent to 63 felled trees, so the office is planting 126 trees at selected schools in Accra and Tamale to compensate for that.
Deputy Ambassador, Federal Republic of Germany, Helge Sander, indicated that the effects of global warming are getting worse daily, and children are the most vulnerable to those effect – so tackling the alarming rate of deforestation is one of the sure ways to solve the issue.
"We at our embassy are putting in place measures to ensure that we protect the environment and reduce the carbon dioxide pollution. We have installed energy-saving equipment and lighting systems, moving to the use of more solar energy by installing solar panels; and eliminated single-use plastic bottles.
"We have also decided to plant more trees that are used to provide us with paper and to protect the environment, because the benefits we get from trees are countless," he said.
Director of Education-Ga East Municipality, Bernice Ofori, expressed that the Ghana Education Service is overwhelmed by the initiative, which is also in line with the GES programme to ensure green schools across the country.
She further encouraged churches, communities as well as corporate organisations and individuals to take it upon themselves to plant trees in their surroundings, which will in the long run also improve their health conditions.
The team planted twenty trees at Akporman Basic School and aim to continue the exercise in other selected schools throughout the month of June, and it will be accompanied by environmental education sessions for children at schools in partnership with Green Republic Project.
The Green Republic Project, led by Nana Yaw Osei, is an initiative that is targetted at planting one million trees over a ten-year duration starting from 2017.