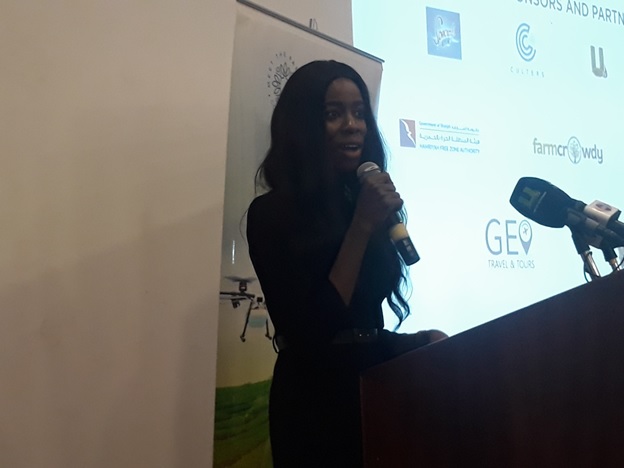 Ghanaian farmers from commodity producers, aggregators have been encouraged to seek partnerships and tap into the growing food demands in the Gulf Corporation Council (GCC) countries comprising UAE, Saudi Arabia, Oman, Bahrain and Kuwait which has diversed off-takers and buyers of agricultural produce.
Research shows every year, Africa exports over US$35billion worth of Agric produce to other parts of the world and analysts have speculated that figure will rise to US$400billion by 2050.
The UAE imports about 80percent of its food and the market is estimated to be worth over US$100billion.
Speaking at the official launch and media briefing in Accra ahead of the third Meet the Farmers' Conference (MTFC) slated for Dubai in November 27 and 28, 2019, a representative of the organisers, Bola Oyedele indicated that it is time Ghanaian farmers explore the Dubai markets which is ready to do business in terms of purchasing produce from Africa.
"We are trying to connect the agribusiness stakeholders from Ghana to the agribusiness stakeholder to the GCC region but we are using Dubai as a strategic and logistic trade hub where all of them can come together for business for trade and for more agric transactions.
Dubai is actually investing a lot because everywhere you go now-for tourism for example it is Dubai, if you are welcoming a lot of tourists to your country, they need food, they need accommodation. It is a desert, where they don't produce anything that has to do with food, but now they can import food-they are importing food from everywhere –why not from Ghana,Africa where we have a fertile soil, our food is organic and all of that, for us that is the focus because the market is not also saturated, if you go to America the market is saturated, they can easily reject your food, with Dubai they need food, it is a key thing for them.
She also maintained that with regard to certifications and standardization, the requirements in Dubai is not as stringent as opposed to other European countries.
"If you can meet the basic standards, you can easily export to Dubai- why don't we explore the market that is actually begging for this food, that is why we are telling the Ghanaian farmer to understand the requirement which is straight to the point and you can easily export your produce to Dubai".
Meet the Farmers' Conference is a first of its kind Agro-trade and networking conference in Dubai and the Middle East. The aim is to connect large scale agro commodity producers to buyers alike.
Stakeholders from Africa and the Gulf Corporation Council (GCC) are expected to come together during a 2-day event to network,collaborate and form sustainable business partnerships across borders.
Most importantly,African farmers, participants, exhibitors and delegates at the event will be able to leverage the business opportunities available to them in Dubai and other GCC countries.
Beyond supply and demand, a sustainable trade partnership will benefit the two regions, for Africa, it will attract foreign direct investments, contribute to its goal of economic diversity, improve bilateral trade and country relationships.
For UAE and the GCC, it will provide a wide variety of food produce exclusive to the African region, open up new markets for investments, improve bilateral trade and relationships, create an avenue to share knowledge and new technology among others.
Cyril Darkwa, the Head of Dubai Chamber representative office –Ghana lauded the initiative and also appealed to Ghanaian farmers to take advantage of the opportunity.
He also added that his office existed to create opportunities in Ghana and other West African countries to off-takers and businesses in Dubai.
"There are about 16,500 food outlets in Dubai- how can these people find  local farmers in regions say West Africa-they will not come to Ghana to find them-Crenov8 and Dubai Chamber are there to bridge the gap to help local farmers, local company reach a global market".