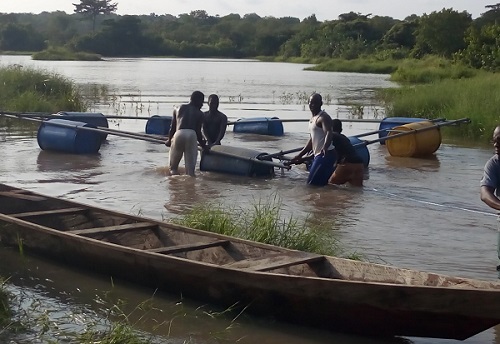 The Tain District in the Bono Region has secured a grant of €600,000 from the European Union (EU) for developing aquaculture, poultry keeping and gari processing.
The three-year livelihood empowerment project is expected to directly benefit about 1,000 rural-folk, especially youth and women across the initiative's three modules.
The Tain district is among a few beneficiary areas for the EU-supported project; in the erstwhile Brong Ahafo Region, Tain, Techiman North and Kintampo South districts have been selected for the poverty alleviation-driven project.
Aquaculture
Briefing B&FT, the DCE for Tain – Charity Foriwaa Dwommoh, said the project had started with the aquaculture component. It is to help diversify the rural economy which is mainly driven by crop farming, especially cashew production. The fishing project target areas are Degedege irrigation dam, Seikwa and Hiamankyene.
She indicated that separate ponds are expected to be dug at Seikwa and Hiamankyene, while the Degedege dam will be renovated for that purpose. The dam, constructed around 2003/2004, has developed some defects.  The Assembly has also acquired GH¢150,000 under the Ghana Safety Net Productivity for aquaculture; two hand-dug ponds will be constructed at Yabraso and Tainso, while a portion of the money will be used to correct defects at the Degedege site, she added.
"Renovation of the dam will not only be a milestone for cage-rearing of tilapia and catfish, but also give a facelift to vegetable cultivation – which was the primary motive behind the establishment of the dam. Interested persons will receive state-of-the-art technical training in aquaculture, and those who show commitment to the course will be assisted to access funds from Venture Capital," she stated.
Gari processing
Gari-processing is one of the economic activities for women groups in some communities of the district. But the major challenge facing these agro-processors is access to viable markets. The project has therefore been designed to help address this bottleneck by linking the women to identifiable markets.
"The project targets building the capacities of gari processing women groups, links them to buyers in Burkina Faso, and also teach them basics in book-keeping to help them in financial management. Besides, the Business Advisory Centre of NBSSI has provided us with some processing equipment that will be given to the women as startup kits," Mrs. Dwommoh said.
Poultry Keeping  
According to the DCE, the farm of a commercial poultry farmer in the district has been designated as a demonstration site where interested farmers will undergo training from experts in poultry keeping. She said: "Interested individuals have to construct their coops as they receive the training. They will be assisted to secure funding from Venture Capital to purchase chicks and feed to kick-start the business".