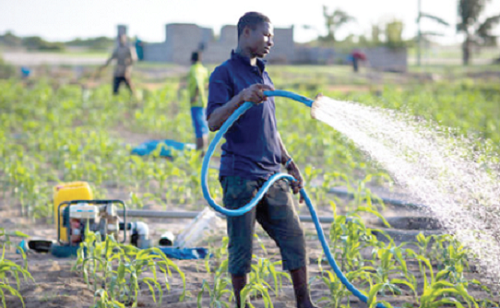 Solar irrigation is beginning to gain traction in Africa as a reliable clean-energy solution for agricultural water management.
This is because there appears to be a dip in investment costs for solar-powered irrigation systems (SPIS), and an increase in subsidy schemes; thus, solar-powered technologies are gradually becoming viable options for many farmers.
It can therefore be inferred that the continent is on the brink of embracing the technology as an alternative, since Africa records a high incidence of solar radiation.
However, the conditions for adoption of these systems vary in countries – which can range from biophysical and climatic suitability, technical feasibility, institutional arrangements, regulations and policy support, as well as access to maintenance services, financing and economic viability of systems.
However, one of the biggest challenges in solar irrigation lies with the technical skills needed to carry out such projects. Specific technical skills are lacking at national level among government officials and technical staff, including irrigation officers, extension service staff, and with farmers and their organisations.
Responding to these challenges, the FAO Regional Office, in collaboration with the Land and Water Division (CBL) in the framework of the Land and Water Technical Networks, organised the first training workshop on SPIS in Accra on Tuesday, May 21st to May 24th.
GIZ, the German development agency, supported the event which allowed strategic stakeholders to further explore the possibilities of the widespread use of the innovative technology in Africa. FAO's Land and Water Officers across Africa delved into technical aspects of the innovation and tried to map out further engagements for rolling out the initiative across the region.
The workshop enabled the officers to gain a comprehensive understanding of the Land and Water Division's role in supporting the FAO's commitment to help eliminate hunger, food insecurity and malnutrition.
Speaking to press on the sidelines of the event, FAO's Senior Water Development and Management Officer at the FAO Regional Office for Africa (RAF), Valere Nzeyimana, said solar irrigation has become a viable option for many farmers, particularly in a rural Africa that lacks access to electricity grids.
He expressed hope that the workshop will assist the thirty land and water officers from FAO country offices across Africa to exchange useful ideas, experience as well as challenges faced in adopting the technology.
The Director of the Land and Water Division-FAO, Eduado Mansur, pointed out the nexus between food security, energy security, and water security – and said they are inter-related global priorities. He observed that rising population estimates mean there will be a 50% more demand for food and water.
The FAO Regional Representative for Africa, Abebe Haile-Gabriel, observed that solar-powered irrigation can be very transformative in Africa. He urged the participants to focus more on the 'how-to-do', owing to the strategic importance of SPIS.
He also indicated a rising energy demand for agriculture, which he said is imperative to achieving the 2063 agenda of the SDGs.  He noted that mechanised agriculture in Africa is as low as 4% in central Africa and 25% in South Africa, while irrigation figures are also disappointedly low – with less than 4% in many circumstances.
He noted that enhancing irrigation cannot be done without energy, and the power-deficit in Africa thus remains the biggest challenge.