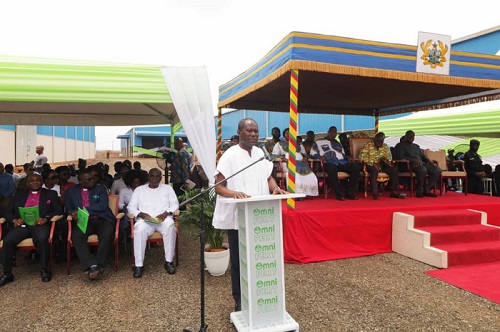 The Omnifert Company has opened a landmark Fertilizer Plant in Prampram, Greater Accra Region, helping to create jobs and boost food production in the country.
The Omnifert Fertiliser Factory is a world-class manufacturing plant whose construction started in 2017 and can now produce at least 8,500,000 bags per year during peak season. It is expected that the company, which already employs over 400 staff, will increase its staff strength to 500 – serving an important role in Ghana's food chain and impacting other countries in the West Africa sub-region as well.
The new plant was inaugurated by President Nana Addo Dankwa Akufo-Addo, and in attendance were the Greater Accra Regional Minister Mr. Ismael Ashitey; CEO of COCOBOD, Mr.  Joseph Boahen Aidoo; members of the diplomatic corps, smallholder farmers and other important stakeholders.
President Nana Addo Dankwa Akufo-Addo remarked: "We must produce more locally to satisfy demands of the domestic market, and we must equally produce in excess to meet international demands. Companies like Omnifert can help in achieving our goal of making Ghana the agricultural hub of West Africa".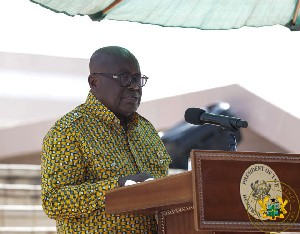 President Akufo-Addo stressed his confidence in "the Ghanaian's sense of enterprise, creativity, innovation and hard work", which would thrive in an enabling environment. He congratulated Omnifert and encouraged them "to continue being a shining example of Ghanaian success."
The CEO of Omnifert, Michael Zormelo, stated that: "The company, which is part of the Omni-Energy group of companies, started the process of blending Nitrogen, Phosphate, Potash and other micronutrients into NPK fertilisers a few years ago – in line with research which has established that this is one of the best formulas for boosting yield".
Mr. Zormelo said the new plant has the capacity to blend 1,200MT of fertiliser per day, taking the total daily production of the two lines to 1,920 MT; and is the only facility capable of receiving and offloading 5 vessels of 20,000MT simultaneously.
He also announced that a new site for Phase-Two (2) of the project has been secured, with expectations being that the company will increase warehousing capacity from its current 100,000 tonnes to 200,000 tonnes by the third quarter of 2020; Construct a Folia Plant capable of producing liquid or water soluble granular fertiliser; Develop a water-soluble plant for irrigation; and establish a bottling plant for the chemicals (pesticides) to be used for spraying and fighting crop diseases and general protection of farm products.
It is well-known that small-scale Ghanaian farmers are managing on average 1.2 hectares of farmland at relatively low productivity levels, and that the correct application of fertiliser can be a factor in multiplying yield – and multiplying income from the same plot of land. This is the reason so much emphasis has been placed on improving production, partly through the use of subsidized fertiliser, as well as other necessary interventions being made by the Government through the Ministry of Food and Agriculture.
Mr Aidoo also stressed the need for quality products to ensure the right results, encouraging Omnifert to continue playing a strong role in this area. All of these interventions are already serving to improve productivity. With expansion of the Omnifert blending plant, farmers can now expect an even wider distribution of high quality and soil compatible fertiliser.