A total of 16,370 acres of cocoa farms scattered across the Bono, Bono East and Ahafo Regions have so far undergone hand-pollination exercises initiated by the Ghana Cocoa Board (COCOBOD).
The human-induced cross-fertilisation programme is expected to increase yield significantly so as to boost national cocoa production. Average yield per acre is projected at 15-20 bags (64kg). Farmer used to harvest 3-4 bags per acre prior to the hand pollination exercise. The COCOBOD estimates that each cocoa tree that is hand-pollinated can increase the number of pods to a minimum of 50.
Individual farmers numbering 17,382 in the eight cocoa districts of the three regions – Goaso, Dormaa, Bechem, Berekum, Sankore, Techiman, Nkrantwanta and Dadiesoaba – have so far benefitted from it.
The Cocoa Health and Extension Division (CHED)-COCOBOD Deputy Regional Manager in charge of the three Regions, Abdul Majid Mumuni, disclosed this to the B&FT in an interview. He said the hand-pollination exercise – one of COCOBOD's productivity enhancement programmes (PEPs) – was preceded by mass pruning to remove unwanted growth or parts of cocoa trees.
Hand–Pollination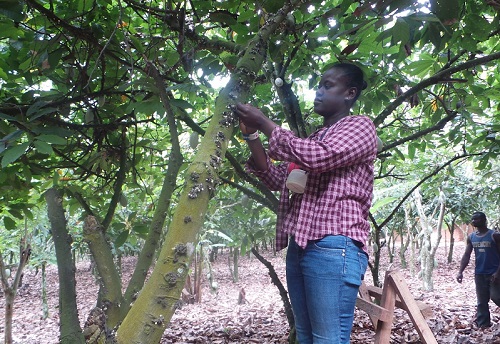 The hand-pollination exercise by COCOBOD started in 2017 and has continued till date. According to scientists, cocoa is naturally pollinated by insects called midges – with an average of 10-20% of flowers being pollinated while about 80-90% are aborted. Notwithstanding the high level of 'cocoa abortion' rate, the midges have reduced drastically as a result of factors such as the spraying unapproved poisonous chemicals, and destruction of their breeding grounds by unfriendly farming practices.
The current COCOBOD administration led by Joseph Boahen Aidoo saw a need to replicate the hand-pollination exercise, which was restricted to seed-gardens on the farms to boost yield – hence the adoption of artificial pollination.
Selection criteria of cocoa farms for hand-pollination Mr. Mumuni, explained include preferably hybrid farms; farms that are between 8-20 years; farms free from cocoa swollen-shoot virus (CSSVD); and accessibility. He added that beneficiary farmers should be willing to maintain their farms by brushing regularly, pruning, controlling pests and diseases, as well as be willing and prepared to apply fertiliser.
About 20,000 pollinators are expected to be recruited by COCOBOD across the country. But in the three middle-belt regions, he said, about 3,833 will be engaged in the exercise – adding that they are dominated by women because they [women] are very good at artificial pollination.
Farmers' Testimonies
A 47-year-old farmer at Akrodie, Philip Appiah Boakye told B&FT that the hand-pollination coupled with other practices such as pruning has remarkably increased his yield, and urged other farmers to embrace it. "A piece of farm from which I used to harvest between 26-28 bags (64kg), thanks to the exercise, output has increased to about 80 bags on the same farm size. The success story has motivated me to engage more pollinators at my own cost to supplement efforts of the COCOBOD recruits," he said.
On his part, Kwadwo Amponsah, 57, at Amanfi in the Dormaa East district of the Bono Region commended COCOBOD for what he described as a "timely intervention" to salvage farmers' poor yield. The seven-acre farmer said the exercise has been increasing yield year-on-year since its inception – indicating that he used to harvest six bags, but post hand-pollination production multiplied to 22 bags, and he's anticipating about 40 bags in 2019.