Mango farmers have added their voice to growing calls for government to establish the proposed Tree and Industrial Crop Development Authority – a regulatory body to streamline operations in the tree and industrial crop sector.
The farmers are of the opinion that a functional and dedicated supervisory body will help address pressing issues threatening mango production in the country, particularly the devastating Bacterial Black Spot (BBS) disease. The disease, which was first reported in Tamale in 2010. has since spread across all mango-growing areas in the country.
The BBS disease attacks mango and other tree crops. It weakens the branches and causes damage to fruits, which eventually drop prematurely. Farmers are warning about further reductions in harvested quantities.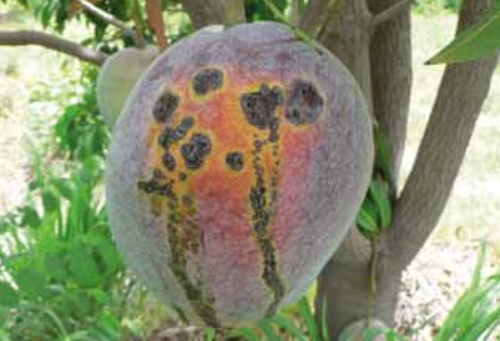 Speaking at stakeholder workshop held at Techiman by the Kintampo and Atebubu Manago Farmers Association, farmers expressed worries about their losses to BBS. The one-day workshop was part of an advocacy campaign sponsored by BUSAC Fund to get the situation under control.
Isaac Oppong, a mango farmer at Atebubu in the Bono-East Region said: "Currently, we don't have a designated place to channel our grievances, such as the BBS attack, for an appropriate remedy. We've been moving from one institution to another for assistance, but to no avail. The development authority might be the ideal receiver of our problems for solution".
He described the BBS disease attack on mango production as "a national crisis that requires urgent attention to salvage the situation". He said: "Last year, irrespective of the huge money I spent on agro-chemicals to spray on my 20-acre farm, I lost everything without harvesting; not even a basket".
Government has expressed its willingness to establish the Tree and Industrial Crop Development Authority to promote the production and marketing of tree crops such as cashew, mango, rubber, oil palm and coffee. The authority is expected to prioritise issues of this nature, but the delay in actualising this vision has been attracting growing concerns from interest groups, including players in the cashew sector.
The B&FT gathered that the BBS disease infestation is increasingly causing a drastic reduction in mango farmers' yields. The farmers put the yield-reduction rate at about 80-85 percent, as harvest on an acre of mango farm has dropped from five tonnes to one tonne. Some farmers across Kintampo, Atebubu, Techiman and Nkoranza have therefore resorted to cutting down mango trees and replacing them with cashew.
Currently, mango is at the fruiting stage and farmers are also anxiously exploring all manner of chemicals to protect their investments; harvesting of the crop will be around June/July. Averagely, a farmer spends about GH¢3,000 on each acre of farm – but this is not a guarantee to reap back investments.
The Secretary of Kintampo Mango Farmers Association (KMFA), Samuel Effah-Nimoh, appealed to the Ministry of Food and Agriculture (MoFA) and other allied research institutions to come out with efficient but affordable agro-chemicals to control the situation and BBS disease-resistant mango varieties as medium- and long-term solutions respectively.