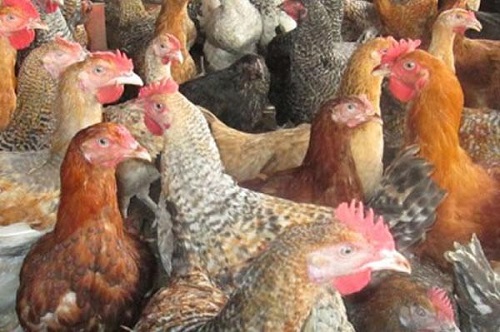 The Greater Accra Poultry Farmers Association (GAPFA) believes enforcing the forty (40) percent quota system for locally produced poultry will accrue to their benefit and enable them increase production to meet local demand.
According to GAPFA, the quota enforcement of 60 percent that is supposed to be imported as opposed to 40 percent produced locally is not being enforced, which in a way is stifling their businesses and has created a gap as far as market share is concerned.
Per Ministry of Agriculture statistics, the total number of birds in the country is 40 million: "But this is not a lot, because in the USA just one farm has 40.2m birds and BRM in Brazil has over 200 million broilers that they produce. So for 30 million people, the per capita consumption of birds should be about 2.5 per person; and as a country we are operating about 1.3 per person, so there is a huge gap for us to meet the UN standards. We are not doing so well," Vice President, Michael Nyarko-Ampem, told B&FT at a stakeholders' meeting to deliberate on issues in the local poultry industry of Accra.
On his part, Vice-Chairman Kwame Ntim Duodu also explained that the reason for the gap is because there is fear local poultry farmers do not have the market.
"We have the capacity to meet the national consumption needs, but when you produce and you are not sure of the market you don't venture there; if what we saying gets to government, we are ready to sit with them and tell them this is how we want to go about it.
"We graduate it, and say, next year, reduce importation of poultry products by 10 percent – by which time government would have met with the association and asked them to increase by 10 percent to meet shortfall, and the following year we reduce importation by 20 percent – and in the same way you increase local production by 20 percent.
"When we are sure we have the market, we have the capacity to produce and meet the national demand. It is not competitive doing this business with those that import them. They have access to cheaper sources, interest rates and loans, so they are able to go out and bring their poultry produce and dump on us."
He also added that locally produce birds are healthier because they do not have to go through many years of storage, unlike the imported ones which have been stored for more years.
Ban on importation of poultry
The group also believes that a ban on the importation of poultry would be "ideal" for the long haul, but in the short-term it wants government to assist them to expand their businesses.
Vice-President Michael Nyarko-Ampem stated: "The ban on importation of poultry would be ideal, that is the ultimate we expect and anticipate government will do; but in the interim, we also appreciate the fact that those who import have people they employ so we would not want people to just go out of business. We should do it systematically, so that as we reduce the importation our poultry farmers also will fill in those gaps so that as those people get laid-off they are employed in this sector so we don't get a shock in the system".
On seeking support from financial institutions to help expand the group's business, Mr. Nyarko-Ampem maintained that it has been difficult because "all the financial institutions think poultry is a risky business", and reckons if government "looks at them favourably" they can achieve more for the country.
At the annual general meeting of GAPFA, it was revealed that during the year under review the group exhibited strong resilience in the midst of a difficult operational environment. Prices of major raw materials, such as maize and soya bean meal, reached high levels.
Despite these difficulties, total quantity of feed sold was a record 566,753 bags compared with 535,383 bags recorded for the previous year in 2017. The increase of 31,370 bags represented 5.9 percent. This reflected in a record gross income of GH₵45,505,728 compared with GH₵39,766,694 achieved in 2017, indicating an increase of GH₵5,739,034(14.4%).
The group's total operational cost rose by 14.8% from GH₵39,550,308 in 2017 to GH₵45,418,823 in 2018. Net surplus after tax increased by 8.7% from GH₵100,073 in 2017 to GH₵108,799 in 2018.
On the future plans of the group, officials maintained that it is envisaging to set up a fully automated production line that will commence operations at the GAPFA property at Gomoa Akotsi in January 2022.
The decision was taken because the current location cannot contain their ever-expanding operations; likewise, the labour intensive operations will not survive the continually increasing competition in the feed-mill industry.
GAPFA operates within the agricultural manufacturing industry, and is mainly involved in the production of poultry feed for sale to its members as well as non-members.
The Association currently operates two 5-tonne per hour integrated feed-mills, with  bagging system.