Forests are important to solving the global climate challenge- it is more than a third of the solution to climate challenge and are critical for biodiversity, yet the world is still losing record number of forest, so unless governments, public-private partnership, other global players solve the challenge of a forest lost, then the Sustainable Development Goals (SDGs), climate goals, as well as addressing the biodiversity crisis cannot be achieved.
"Three-quarters of species on the planet on the terrestrial surface.it is home to 1.6billion people, yet we are still losing record number of forest in the world, so unless we can solve the challenge of a forest lost, then we can't achieve the SDGs, climate goals, we can't address the biodiversity crisis.
We can make more money in the short term but if we care about the long term, we care about our children, grandchildren then we have to work to ensure that the forests are preserved to secure the supply chain in the future" Justin Adams, the global director of Tropical Forest Alliance told B&FT in an interview at jurisdictional sustainability workshop in Accra.
According to Justin Adams, the global director of Tropical Forest Alliance (TFA), the government needs to balance the economic, environmental and social- but if priority is given to one, society will fall over.
The jurisdictional sustainability workshop in Accra, under the auspices of Tropical Forest Alliance, is aimed at bringing actors working in the landscape together and with the power of harnessing the collective, from cocoa farmers, palm oil companies, regional and district governments, traditional tribal chiefs to look at how progress can be made.
He maintained that if humanity wants to go far and prosper through the 21st century and into the future, then it is time to figure out how to go together.
On ways to prevent deforestation and forest loss, he first of all indicated that working together is paramount and it is also the reason the Forest Alliance exists-looking at how to work together with global actors and the community.
He also touched on the fact that, government and global actors do not place value on its standing forests, ecosystem.
Mr. Adams lauded the work that the World Bank and the UN ecosystems have been doing, "who are trying to look at how to harness that by what they call Red plus schemes and that has been some great work and there is an opportunity to mobilise more international scheme to support the government to have value from the forest here in Ghana and across much of Africa, so it creates a value for our forest
But even in isolation that is not enough, if we make everything about economics that is also not enough"
Furthermore, he added that humanity is connected to nature and it is keen to reconnect with it because, "if we destroy nature, we destroy our lives, if we destroy our forests we destroy lives".
Bringing the private sector resources to work and complement government resources as well as the supply chain movement that the TFA represents can do that, he noted.
"We need to understand the role of finance-both to mobilise finance for increasing incentives, conserving and restoring forest – that is what the REDD Plus schemes that is being piloted in Ghana and across Africa can do"
He urged governments to understand how the global financial system is continuing to push resources into actions that are destroying nature, "so let's understand how we can stop or the risks of how finance is degrading nature rather than enhancing nature.
So yes, let's mobilise more finance to do good but let's also stop some of the flows of finance where it is doing bad".
Joseph Lumumba, Africa Regional Coordinator TFA, indicated that the workshop is intended to show how they are moving from a global convener to a landscape convener, rallying stakeholders involved in the commodity supply chain to come together to address deforestation in a collective manner.
"We want to have a common understanding of how the judicial process is all about- we want it to make it as practical as possible" he said.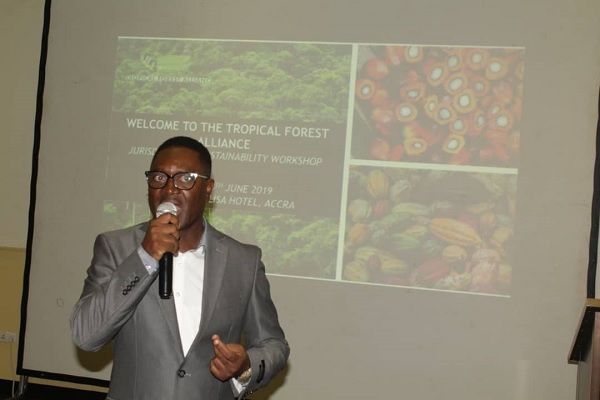 TFA is a global umbrella partnership that brings together governments, private sector and civil society organisations to remove deforestation from palm oil,beef, paper and pulp.
Their role is to work with leaders and create more forest positive stories, which will inspire more action and more support, but governments must regulate the bad actors.
It is also a global public-private partnership. Its governance serves the needs of partners from three sectors: business, government, and civil society. Specifically, TFA is committed to reducing tropical deforestation related to key global commodities, starting with soy, beef, palm oil, and paper and pulp.