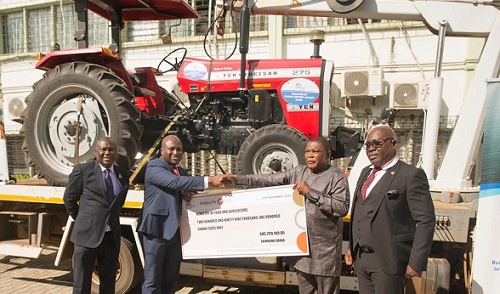 Five companies have presented cheques for various amounts and items in support of this year's National Farmers' Day celebration.
The event is slated for December 6, 2019 at the Ho Jubilee Park in the Volta Region. This year's celebration, which marks the 35th edition, is themed, 'Enhancing small scale agriculture towards agribusiness development'.
The benevolent companies include Exim Bank Ghana, Mohinani Group, BonAgro Company Limited, Nsoroma GPS, and Macro Fertil Ghana Limited, an Agriculture inputs-fertiliser company.
Exim Bank donated a tractor with accessories, Nsroma GPS, a tracking for security company donated two vehicle tracking devices, while Macro Fertil donated 100 cartons of Ervextra weedicide worth GH¢25,200.00 for rice and maize and a cheque for GH¢5,000.00.
BonAgro Company Limited on the other hand donated 40 sprayers, and weedicides, while Mohinani Group, producers of Polytank donated 1000 pieces of fruit packaging cartons, two bales of bagging sacks for farm produce, four pieces of 2,500 litre polytank, and black sheeting rolls for green house farming and drying of grains and vegetables.
The donations were received by Dr. Gyeile Nurah, the Minister of State at the Ministry of Food and Agriculture.
He thanked the five companies for their support, adding that their benevolence will go a long way to give farmers, the recognition that they deserved.
Dr. Nurah also entreated the donating companies to grace the occasion slated for Ho, to witness the impact of their support in the lives of the farmers
"We believe in their various operations and success and we are hoping to have similar or more support next year from these generous organisations." He added.
For his part, William Obeng, Head of Corporate Banking, Exim Bank, who presented the tractor, said the bank has a special focus on agriculture and agro processing, hence the interest to support the sector.
He said the tractor would be given to the farmer who finishes first runner-up at the national level. He was optimistic that the reward would motivate other farmers to rededicate themselves to the promotion of agriculture and food security.