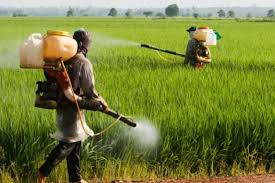 The overuse of agro chemicals as well as using untrained hands to administer such chemicals on farmlands has been identified as a great bane to agricultural productivity, inflicting toxicity on the farmland and resulting in inadequate yields and climate-related effects.
Meanwhile, Agriculture has been said to be the mainstay of the Ghanaian economy and employs over 70% of the population, and is a significant contributor to the country's Gross Domestic Product (GDP).
Mr. William Darko, the Coordinator of Africa Needs International – a non-governmental organisation (NGO), has advocated for strict compliance to the Pesticides and Fertiliser Act (Act 803) to streamline the activities of Agro-chemical dealers and users to safeguard the health of consumers, sustain the labour force of the country and food security, and mitigate climate change effects.
The research and advocacy work is financed by the BUSAC Fund.
Pesticides and fertilisers   are   major  inputs   that   account   for   increasing   crop   yields   and  farm profits, and the Food and Agricultural Organisation report  (2015) estimated that between 20% and 40% of global crop yields are reduced each year due to the damage wrought by pests – hence the increasing demand for the commodities.
The projection made by FAO (2015) also shows that global fertiliser use is likely to rise above 200.5 million metric tonnes due to growing demands for food production because of the population explosion.
Mr. Darko said the importance of pesticides and fertilisers could not be overemphasised   in   farming, but the   proliferation   of   agro-inputs   outlets   within   all   farming communities without requisite skills on mode of application has become a danger to human lives and water resources, a situation that needs to be averted.
He said the imminent   danger   is the   use   of   unskilled   shop   attendants   with   no   basic knowledge of calibration and usage of agrochemicals, with most of them being unlicenced.
There   are   about   700   rural   retailers   of fertilisers   spread throughout Ghana.
He indicated that a research document from the International Food Policy Research Institute (IFPRI) and the International Fertiliser Development Centre (IFDC) stipulated that   80%   of   agricultural   inputs   dealers   sell   fertilisers,  91%   sell   crop   protection chemicals, and 51% sell seeds.
Mr. Darko mentioned these data consolidate the fact that pesticides and fertilisers are sold by all retail outlets, hence frantic efforts must be made to regulate the activities of dealers, retailers, and users at large.
Citing examples of abuse, he mentioned an incident in the early part of 2018 when four people died from residual contamination of agrochemicals at 'Dua da so' – a farming community at Akyemansa district – with several people treated and discharged from hospital.
In Accra, in the same year, three children died when their parents sprayed their room with agro-pesticide: "This gives a clear picture of the magnitude of the problem, and the extent to which it affects productivity and threatens lives if its sales are not properly regulated".
Mr. Darko mentioned that continuous pollution of the environment through pesticides and fertiliser-use and disposal can adversely affect the climate, create environmental hazards, cause pollution of water-bodies and pose food insecurity problems for the country.
He therefore called on the Pesticide and Fertiliser Regulatory Division (PFRD) – the legally mandated entity – to act promptly on the matter to avoid the growing lapses in the agricultural sector.
The Act 2010 (Act 803) enjoins the PERD to supervise and train regulatory inspectors, register and train pesticide and fertiliser dealers, take records and statistics of pesticides and fertilisers, and manage pesticide and fertiliser stocks   in   the   country.
They are also to supervise bio-efficacy   trials   on   pesticides   and fertilisers by research institutions, and to remove obsolete and unwanted agro-chemicals from the market.
The Coordinator said: "It appears they are not working to the expectation of farmers and consumers, as many fertiliser and pesticide dealers continue to do their own thing without any punitive measures".
Meanwhile, the Act suggests a four-year jail term for people who fall foul of the law.
The lack of control and monitoring has resulted in either over-utilization or under-utilization of the chemicals – resulting   in   crop   failure,  contamination   of   food   crops, and  food poisoning of consumers.