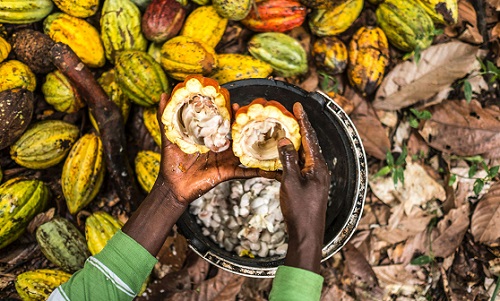 Cocoa farmers in Agona East District and Agona West Municipal District in the Central Region have called for support to boost cocoa production.
The farmers who complained that their operations are constrained by their inability to purchase needed inputs, say they want the government to make available inputs such as fertiliser, spraying machines and other agro-chemicals at subsidised prices.
About two years ago, in a bid to boost cocoa production, they said the government through COCOBOD supported them with a number of inputs including chemicals for enhancing pollination and cherrelle development, under the Hand Pollination Programme.
The programme involves an artificial process where the pollen is taken from the flower on the same tree or nearby ones and attached to or dropped on the stigma leading to cross-pollination. This allows many flowers to be pollinated in a day, resulting in massive fertilisation and cherrelle development.
This led to bumper cocoa harvest on farms selected for the Hand Pollination Programme in the Central Region that year.
The farmers, however, said since then, the programme have been discontinued and that they are unable to purchase the chemical, Banzai, because it is expensive.
"We want the government to increase the support they are giving us because most of us do not have the money to buy quality inputs and as a farmer, if you do not get the right inputs you need, it affects production," said Kwabena Affedzi, Chairman of Nyakrom Cocoa Farmers Association, in the Agona West Municipal District.
Mr. Affedzi who benefitted from the Hand Pollination Programme, added that authorities should also work with the suppliers of Banzai, Callighana, to make it available to farmers at cheaper price.
"The Banzai that COCOBOD gave us two years ago was very helpful; we harvested all year round and even in the lean season, we had something to harvest, so my plea is that the government should support us with more of such inputs."
Another farmer, Isaac Kofi Aidoo, who runs a seven-acre cocoa farm at Agona Nyamedam, wants COCOBOD to increase support under the Hand Pollination Programme.
He said after implementing the programme on a small section of his farm, he saw massive improvement on that section and therefore, wants it maintained.
"Since the trial in 2017, I have been using Banzai but because it is a little bit expensive, I am not able to buy the required quantity. So, I would plead with COCOBOD to subsidise it for us to be able to buy.
"Aside that, we also need support to be able to control pests on our farms," he added.
According to him, the Agona area has the right climate for cocoa production and could become a major cocoa production hub in the country, if given the needed support.
A number of farmers in the Agona East District and Agona West Municipal District, including Yaw Amoakwa Boadu, from Agona Kuntanase, alluded to the positive impact of Barzai on cocoa production.
"A few years ago, I bought Banzai at a subsided price and after applying it on my farm, I noticed massive improvement in the size and quantity of cocoa I have harvested that year."
"Typically,"  he said, "I would harvest about three bags but after using Banzai, I was able to get seven bags that season on the same farm. But since then, I have being looking for where I can get some to buy but to no avail, so if the government can help with such inputs, it will go a long way to boost cocoa production in the country."
As climate change takes effect on farming, especially cocoa which is one of the country's major foreign exchange earner, it is expected government would explore innovative ways to sustain the sector.
Already, cocoa farmers have complained about low yields and its attendant effects on farmers income.
Therefore, artificial processes of enhancing production like the hand pollination project which uses chemicals such as Banzai to enhance flowering, prevent flowers from falling and stimulate pod strength against external stress, are seen as the way forward.
Natural pollination, coupled with hand pollination or artificial pollination, have been known to boost crop production, and in the case of cocoa, doubling farmers' yield.