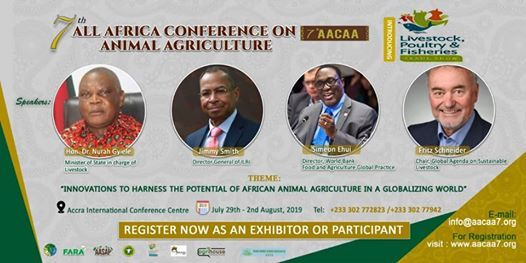 Dr. Julius Hagan, Secretary, Ghana Society of Animal Production, has stated that the 7th All African Conference on Animal Agriculture (AACAA) will examine ways to leverage private sector investments through strategic national, bilateral and multilateral financing of livestock, fisheries and aquaculture research and development.
Speaking at a press briefing on the upcoming event in Accra, Dr. Hagan, stated that livestock production accounts for 14% of agricultural GDP and it is a major source of income for most farmers in the country, but it has not kept pace with the growth of the human population.
The event which is expected to attract about 500 participants across the African region and also bring major industry players together to showcase the opportunities, advancements, products and services in animal agriculture will be held from the 29th–31st of July, 2019 at the Accra International Conference Center (AICC).
Dr Hagan  said that there is a need for greater private sector engagement since, livestock business in its different phases with respect to the value chain has to some extent remained a way of life rather than a commercial venture yet the industry holds a great potential which when tapped and properly harnessed would serve as an impetus to propel economies of the continent to greater heights."
He called on stakeholders within the sector and the media to shed more light and modernize animal agriculture to improve productivity and achieve food security and profitability.
On her part, Madam Alberta Nana Akyaa Akosa, Executive Director of Agrihouse Foundation and organizing partner of the event, expressed how optimistic she was about the event. According to her, successive governments have rolled out initiatives to boost commercial livestock farming in Ghana the recent being the Rearing for food and Jobs Program (RFJ) however the private sector is also required to come out with the strategies to ensure desired gains.
"One of such strategies is a platform that would enable major stakeholder to market their product and services, receive training in their line of business and create a network to move their businesses further. This among others is what the Livestock, Poultry and Fisheries Trade Show seeks to achieve," she said.
She said that the event ties in perfectly with the Government's policy and campaign agenda for the promotion of animal agriculture.
"This is a timely event as it promises to offer stakeholders an opportunity to grow and expand their brands, create enormous business opportunities and offer the youth an opportunity to build a career in the Animal Production and Value chain," she said.
Madam Akosa added that, it is about time all facets of agriculture gets the required promotion and our farmers empowered, so that Ghana can achieve its Ghana Beyond Aid agenda.
The All Animal Conference is Africa's single largest gathering of Animal Scientists and the main mechanism of providing a forum for stakeholders to share views and issues germane to Animal Agriculture. The local organising partners for AACA include the Ghana Society on Animal Production (GSAP), Ghana Animal Science Association, Forum for Agricultural Research in Africa (FARA), and the Animal Production Unit of the Ministry of Food and Agriculture.
The event, an initiative of Ministry of the Food and Agriculture and Agrihouse Foundation, will run alongside the 2019 edition of the Livestock, Poultry and Fisheries Trade Show (LiPF) which is an initiative aimed at showcasing and promoting the country's livestock, poultry and fisheries production, value chain and job opportunities through exhibitions and training programs.
The program which is under the theme: "Innovations to harness the potential of African Animal Agriculture in Globalizing World," will also help to drum home the importance of animal agriculture as well as provide opportunities and prospects for transforming ruminant livestock systems in Africa.