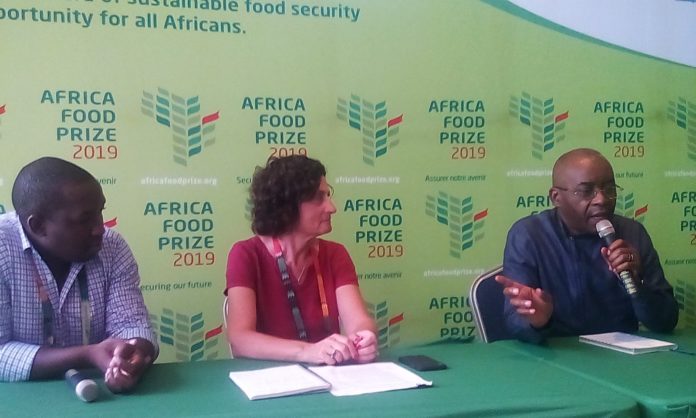 The Alliance for a Green Revolution in Africa (AGRA) and Atlas AI have agreed to work together to fill key gaps in access to data on agricultural productivity, including satellite-based monitoring of crop yields, infrastructure, and markets.
At the recently concluded Africa Green Revolution Forum 2019, a joint press conference was held by the two institutions to increase public awareness of the partnership first announced in April 2019.
The collaboration was formalized with a memorandum of understanding (MOU) signed earlier in April 2019 at The Rockefeller Foundation in New York.  The objective of the partnership is to build data collection and learning into the roll-out of major new investments in Africa's ag sector.
"The new partnership will connect Atlas technology with AGRA's deep understanding of the complex trade-offs facing African governments and agribusinesses. It creates a framework for integrating our collective data assets and insights, enabling us to co-create new products that serve AGRA's clients," stated Dr. Victoria Coleman, Atlas AI's CEO.
Another aim of the partnership is to expand the geo-referencing of information captured in routine farm surveys.  Atlas AI's co-founder David Lobell, stated that geo-referencing is a critical step in integrating traditional survey methods with newer, more cost-effective satellite-based approaches.
Strive Masiyiwa, Executive Chairman, Econet, and Chairman of AGRF Partners Group urged all saying "opportunities are happening now. You can always find a way to a fear. Let's not look to fear, but to the opportunities."
He noted that he learned about the opportunities with AI in Africa right now, while attending an event at Stanford University in 2018.
Atlas AI present opportunities right now in the AI sector, Strive, a successful telecom entrepreneur quickly monetize the opportunity which is forecasted to be worth US$16trillion by 2030. Noting the whole of the African economy is US$3trillion.
Intending to help the audience to capture just how relevant and important this AGRA-Atlas AI Partnership can be in the destiny of the African Green Revolution Strive said why not capture "one percent of US$16tillion?" This calculates to be US$160billion, which would be transformational in Africa."
The Atlas AI-AGRA team mission is "to build Africa's share of AI driven businesses in substantial ways to improve lives." The AGRA Atlas AI partnership provides a platform for technology support, and professional mentorship for both private profit and public benefit through the building sustainable business models.
Dr. Victoria Coleman, Chief Executive Officer of Atlas AI stated that success of the partnership will be determined 90 percent through execution and only 10 percent technology. She emphasized not to be caught up by the technology.
At the press conference, what I heard is there is an imperative for collective intergenerational efforts inclusive of youth and women to properly and skillfully apply the technology to solve Africa's agriculture challenges using data driven solutions.
Oswald Jumira, Group Head of Innovation Partnerships, also participating in the AGRF 2019 press conference stated, "What is ready right now, and available to use is Machine Learning."  The combination of human led research plus Machine Learning from data imagery that cannot be seen by the naked eyes of human is rich with data that can be used to make more informed decisions to increase agricultural productivity throughout Africa.
One of the benefits the cross pollination of opportunities sprouting from the Grow Digital team partnership is the access to this Big Data analysis both African farmers and policymakers have to new tools to address local agriculture challenges.
While at the onset of the partnership, the data will be sent to Stanford University for analysis and discussed with local African teams in collaboration, all team members will engage in critical thinking to analyze the data and take decisive action in their respective locales in real time.
As the theme of the 2019 Forum is: "Grow Digital: Leveraging Digital Transformation to Drive Sustainable Food Systems in Africa" the relationship between AGRA and Atlas is a concrete example of how each side innovates in new ways.
One critical takeaway for African youth and women is that there is a growing unmet demand for job in cognitive computing, which requires knowledge, skills and abilities in AI, ML, and data analytics.  For more information about the opportunities in the digitalization of African Agriculture.