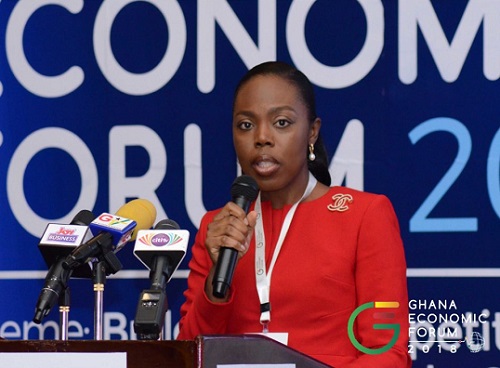 An effective and efficient implementation of the Africa Continental Free Trade Agreement (AfCFTA) could easily move Ghana and Africa beyond aid, Abena Osei-Poku-Managing Director of Barclays Bank, has said.
"The potential and prospects of Africa are enormous and we can shake off the tag of being a poverty-stricken continent and become an economic force in the world. Specifically, for Ghana, we hope this initiative [AfCFTA] will contribute to moving us beyond aid," she said.
She was speaking at the opening session of the 2019 Ghana Economic Forum (GEF), which came off at the Tang Palace Hotel, Accra, on the theme 'Sustaining Financial and Economic Stability: The Key Priorities'.
Mrs. Osei-Poku explained that Barclays, a part of Absa, has deep insight and understanding of the African continent, and the bank intends to use this expertise to drive and stimulate the right engagements between governments and the private sector.
"In response to Your Excellency's call for support, we have committed to hold an annual Absa AfCFTA conference in conjunction with the secretariat and your office. This we believe will contribute to positioning Ghanaian businesses appropriately to benefit from AfCFTA. We have officially made our intentions known to your office and we look forward to the maiden edition in 2020," she added.
She explained that this year's Economic Forum comes at a time when through President Nana Addo Dankwa Akuffo-Addo's exemplary boldness and influence, governments across Africa have taken an audacious step and committed to the AfCFTA – an initiative that will provide a major boost to Ghana and Africa's economic growth and transformation agenda.
"Your commitment toward the establishment of an integrated African market that ensures smooth flow of goods, services and capital across the continent to stimulate economic growth and development is a great legacy for Ghana and Africa. We admire your show of leadership by taking a firm decision to host the Africa Continental Free Trade Secretariat in Ghana," she added.
Touching on how to sustain financial and economic stability, she noted that the last 24 months have been very eventful for the financial sector in Ghana; but through the action of regulators, the financial sector is now strong and ready to support real sector growth.
But to achieve and sustain economic and financial stability, Mrs. Osei-Poku believes a triad of responsibilities and actions must be deployed.
"First of all, we need government to continue handling the fiscal space. Today, the important foundations have been laid. Government has shown its commitment by establishing the fiscal and financial stability councils. And most importantly, government has legislated a 5 percent cap on fiscal deficit.
"These reforms, together with the fiscal space created by the GDP rebasing, are bold and necessary steps to economic stability. To run a sustainable fiscal regime and still deliver development, revenue mobilisation and expenditure efficiency are key. And all of us must support government to achieve this," she said.
She noted that the economy needs the central bank to continue deploying monetary policy and keep a close eye on its price stability mandate.
"The Bank of Ghana has reformed the banking sector, leading to a better capitalised, liquid, regulated and supervised banking sector that supports the transmission of monetary policy. This has led to inflation declining to below 8 percent and the monetary policy rate falling to 16 percent – the lowest in more than 5 years.
"Though improved, there is scope for further macroeconomic consolidation so that the benefits of a more robust banking sector can be sustainably translated to the larger economy – to the ordinary Ghanaian and businesses – in the form of more efficient banking services and lower interest rates," she added.
She added that the economy also need all players in the financial sector – including banks, specialised deposit takers, insurance companies and asset managers – to provide appropriate financial intermediation and risk management.