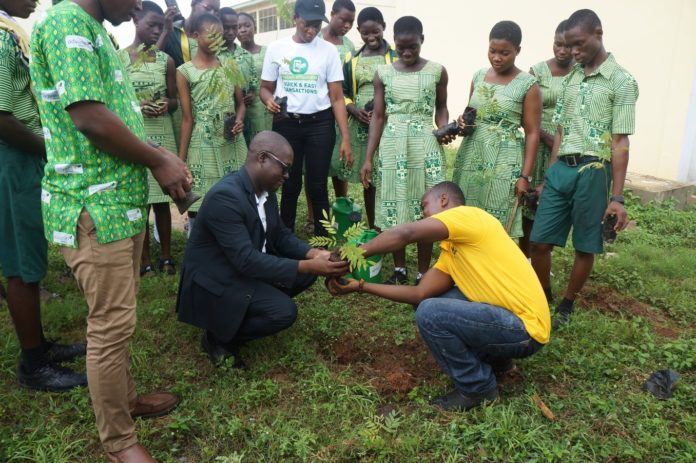 Advans Ghana Savings and Loans, local subsidiary of leading international microfinance network Advans Group, has begun fulfilling its commitment for the year to re-plant up to 400 trees – equivalent to the amount of paper the company consumed last year.
The exercise, which was done in collaboration with the Ghana Forestry Commission, took place at the Christian Methodist Senior High school within the Weija-Gbawe Municipality.
The project, as initiated by the CEO of Advans Ghana, Mr. Olivier Bailly Bechet, aims to reinforce Advans Group's core values of environmental sustainability and giving back to the communities in which Advans operates.
Led by the Deputy CEO of Advans Ghana, Mr. Francis Owiredu, the team stormed the school's campus to plant 100 seedlings as a first phase of the company's Tree Planting Project, together with members of the school's environmental club.
In a short presentation prefixing the exercise, Mr. Francis Owiredu on behalf of Advans Ghana donated 10 watering cans, two wheel-barrows and assorted branded souvenirs to the school and students to aid in caring for and sustaining the trees.
In a speech aimed at sensitising the students, Mr. Francis Owiredu highlighted the importance of keeping the environment green and the need for everyone to make preservation and protection of the habitat a daily responsibility. "Students and young ones must play their expected role in preserving and protecting the greenery, contributing to quality of air and preserving the soil by planting trees where necessary," he said.
Leading by example, the Advans team together with Forestry Commission officials, students and teachers spearheaded the planting process as the 100 seedlings were given their new home.
It was excitement and joy for students and staff of the school, as they hope to ameliorate the intense heat the school suffers, especially, during the dry season.
In a speech at the end of the exercise, the school's Assistant Headmaster expressed appreciation to Advans Ghana. He commended the company for taking time off its busy schedule to not only donate, but also participate in the exercise even though there was a downpour.
He pleaded for more of such kind gestures from the corporate world at large.
About Advans Ghana
Advans Ghana Savings and Loans is licenced by the Bank of Ghana and started its operations in October 2008.
Since its inception, the company has opened 19 branches in seven regions and serves more than 55,000 clients. With nine affiliates in Africa and Asia, the Advans Group serves more than 900,000 clients and employs 6,800 staff, with a gross loan portfolio of €900million and a total of €430million in savings and deposits.
The group's shareholders are major international Development Finance Institutions: European Investment Bank (EIB), KFW, The Netherlands Development Finance Company (FMO), CDC Group plc, FISEA [AgenceFrançaise de Dévelopement (AFD Group)] and International Finance Corporation (IFC). Advans Ghana's shareholders are Advans SA, International Finance Corporation (IFC), KFW and Société Générale Ghana.