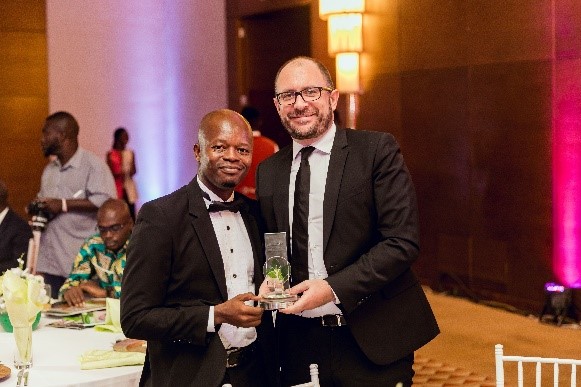 Advans Ghana Savings and Loans  has been adjudged the overall Best Company in Charitable Given at the just ended 2019 Sustainability & Social Investment Awards
Themed "Celebrating Impactful brands and their Sustainable Legacies", the event  conceptualized to publicly recognize the impact made by companies, enterprises, institutions and individuals through exemplary successes in voluntarily improving the quality of life of people and communities.
It had various categories including Sustainable Development Projects, Educational Sponsorship Projects, Community Development & Infrastructure Project, Sanitation Facilities, Environmental Sustainability Projects, Sustainable and Social Investment Projects.
In a grand event that took place on the at the Movenpick Ambassador Hotel, the CEO of Advans Ghana Savings and Loans, Mr. Olivier Bailly-Béchet with the Head of Partnerships Development, Mr. Alhassan Salley, represented the institution at the event.
In his address, Mr. Olivier Bailly-Béchet expressed gratitude to all staff for continuously availing themselves for social commitments. He noted that, it is through their collective efforts that Advans Ghana stood out of the crowd of many organizations to win the award.
He further stated that, "the award is important because it acknowledges the strong importance Advans Ghana gives to being accountable and building awareness of social and environmental issues amongst our employees, clients, partners and the communities in which the institution operates."
The CEO reiterated that, Advans Ghana will continue to invest in impactful activities as a result of having Social Responsibility completely integrated in the company's values, corporate governance, budget, reporting and actions.
In 2018-2019, Advans Ghana implemented many CSR activities throughout its network of 20 branches across Ghana. Projects like donations and visits to leprosarium, hospitals, educational institutions, free health screening services, market cleaning actions and donations of garbage containers, tree planting exercise to compensate the company's yearly paper consumption and partnership with the Royal Seed Home orphanage.
The Sustainability & Social Investment Awards is an initiative to create awareness, encourage companies, CSI/CSR foundations, NGO's and other implementing agencies in delivering high impact CSI/CSR projects that aligns with government's focus on Sustainable Development Goals (SDG).
Advans Ghana Savings and Loans is a subsidiary of the Advans Group head-quartered in Paris with presence in nine countries in Africa and Asia and serving more than one million clients.
In Ghana, Advans operates in twenty branches across eight regions with the head office located in Accra-Newtown. Advans Ghana's mission is to provide client centric financial services to small businesses and under-served populations in a sustainable and responsible manner.