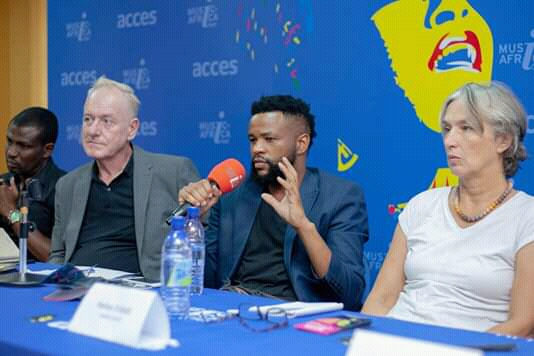 The third edition of ACCES, the leading pan-African music business event, organised by the Music In Africa Foundation, is set to begin tomorrow, November 28.
Slated for November 28, 29 and 30, the event is spread across three venues, namely the Ghana Academy of Arts and Sciences (for the conference programme), Alliance Française (for evening live performances on 28 and 30 November) and the Gold Coast Hub (for performances on 29 November).
This year's ACESS concert will afford up and coming music artiste the opportunity to network with music industry professionals from more than 50 countries, who are set to travel to Accra, Ghana, for the much-awaited 'Music In Africa' conference.
Some artiste expected to be present at the event include multiple award winning rapper, Sarkodie, Samini, Efya, Ebo Taylor, Bibie Brew, Yaa Yaa, Wanlov the Kubolor, Banki W., Wiyaala among others.
The opening nights will honour two legends of Ghanaian music- Ebo Taylor and Bibie Brew, who are receipients of the annual 'Music in Africa' honarary award at Alliance Francaise.
ACESS is completely free by registration and there will be a workshop for music players where top music producers such as Obrafuor will be sharing the latest in the music industry.
At a press briefing, the Director of Music in Africa, Mr. Eddie Hatitiye Bright said: "We are bringing them here to share information and ideas and collaboration opportunities with local players and also discover talents. This is a massive opportunity for local brands to shine. We have great events on our line up but there are more opportunities for music professionals to come around."
Mr. Bright revealed that there is also a special programme, dubbed 'Gender and Works' which is designed to support female professionals in the African Music space. "As you can see, the African Music space is heavily dominated by males so as an organisation, we are pushing to address the gender disparity that exists."
He noted that ACESS goes to different countries every year "and this year we are in Ghana. The vision of the organisation is fair representation, so after Ghana we are going to other countries."
On his part, Mr. Akwasi Agyeman, CEO of the Ghana Tourism Authority, GTA, noted that for the GTA, music is at the forefront of its activities. "There is no doubt on how much we depend on music as a tourism institution. Throughout the 'Year of Return' this year, we've had several musical events and concerns, discussions and masterclasses but I believe that this particular one is unique because of its collaborative nature and the calibre of people who are coming together to perform".
"We are doing our best to position Ghana as the beacon of destination that accentuates initiatives and events that will bring more people to visit the country and boost our tourism", he added.
Also present was Mark Okraku Mantey, speaking on behalf of the Multimedia Group said: "It is an exciting time to be in Ghana. ACESS' decision for choosing Ghana is a demonstration that Ghana Music is going far. Music has played an important role in representing a strong Ghanaian heritage. Music has brought a value chain for us in Ghana that impacts us psychologically, religiously and economically. Our music has evolved greatly and has the capacity to rub shoulders with the world's global giants."
The Ghanaian team of Yaa Yaa, Kyekyeku, FOKN Bois, Cina Soul and FRA are billed for performances too.
In its third year, ACCES, launched in Dakar, Senegal in 2017 is a leading pan-African music business event that features curated panel discussions, exhibitions, production workshops and live performances by music acts from Africa and the Diaspora.
Other high-profile speakers and facilitators at ACCES 2019 will be Chocolate City Vice-President Aibee Abidoye (Nigeria), Ditto Music founder and CEO Lee Parsons (UK),  Airforce1 Records managing director Joe Chialo (Germany), Gallo Music Group general manager Rob Cowling (South Africa), Boulevard Festival co-director Hicham Bahou (Morocco).
The others are TRUE Africa founder and editor-in-chief Claude Grunitzky (Togo/UK), Simfy OTT music services head Oye Akideinde (Nigeria), Boomplay Ghana manager Elizabeth Ntiamoah (Ghana), Nyege Nyege Festival co-founder Derek Debru (Belgium/Uganda) and Grammy-nominated musician, author and rights activist Mark Levine (US), among many others.
Register at www.musicinafrica.net/acces now to be part of ACCES 2019.