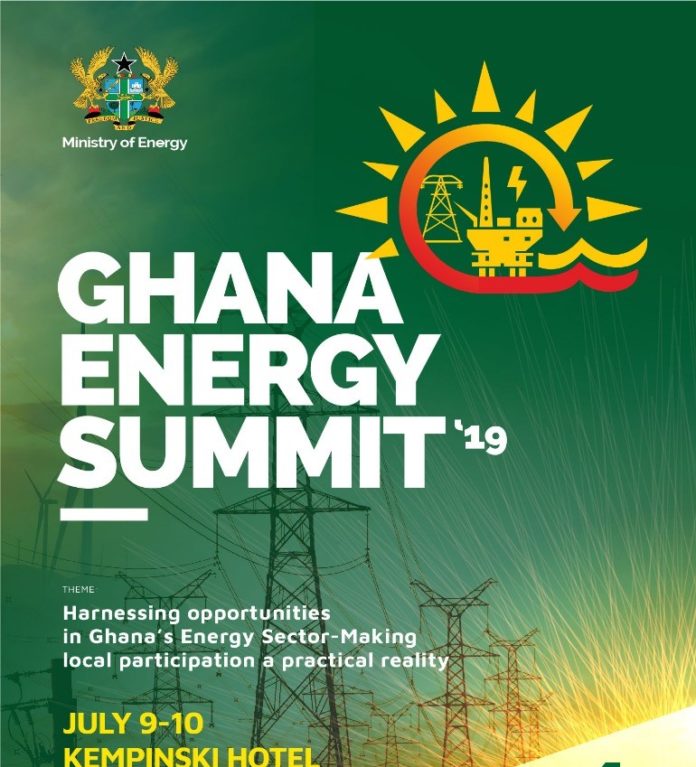 Stakeholders in the energy sector are set to hold constructive deliberations over two days at the 2019 edition of the Ghana Energy Summit, to identify measures that could encourage and significantly increase the participation and ownership of Ghanaian individuals and companies in the growing and expanding sector.
Set to come off at Kempinski Hotel, Accra, from 9-10th July 2019, the two-day summit, organised by the Business and Financial Times (B&FT) and the Ministry of Energy, is on the theme Harnessing Opportunities in Ghana's Energy Sector: Making Local Participation a Practical Reality.
Expected speakers include: Peter Amewu, Minister for Energy; Mohammed Amin Adam, Deputy Minister for Energy; W.O. Aidoo, Deputy Minister for Energy; Dr. Edith Dankwa, CEO-Business and Financial Times; Egbert Faibille, CEO-Petroleum Commission; Dr. K.K Sarpong, CEO-Ghana National Petroleum Corporation (GNPC); Isaac Osei, CEO-Tema Oil Refinery (TOR); Kweku Andoh Awotwi, Executive Vice President-Tullow Plc; and Abigail Harley, CEO-AI Energy.
Others include: George M. Okley, CEO-BOST; Ben K.D. Asante, CEO-Ghana Gas Company; Dr. Ackah, Local Content & Local Participation Coordinator-Energy Commission; Kwame Jantuah, CEO-African Energy Consortium; Dr. Joe Mensah, CEO-Kosmos Energy; Ing. H. Amissah-Arthur, Executive Partner-Arthur Energy Advisors; Dr. Simons Akorli, PURC; Jacob Kwamina Amuah, Technical Director-National Petroleum Authority (NPA); Wisdom A. Togobo, Director, Renewable & Alternate Energies-Ministry of Energy; and Gregory Germani, MD-West African Gas Pipeline Company.
The rest are Kwame Pianim, Business Economist and Investment Consultant; Anthony Paul, International Energy & Strategy Advisor-Gov't of Trinidad and Tobago; David Ofosu-Dorte, Senior Partner-AB & David; Vicky Bright, IWD; Suleman Abubakar, Ministry of Energy; William Hutton-Mensah, Managing Director-PDS; Seth Twum Akwaboah, Executive Secretary-AGI; David Ampofo, Channel Two Communications; Kate Papafio Quartey, CEO-Reroy Group; Kimathi Kuenyehia, Managing Partner-Kimathi & Partners; and Ismael Edjekumhene, Executive Director- KITE.
Dr. Kofi Koduah Sarpong, Chief Executive Officer of the Ghana National Petroleum Corporation (GNPC), in an interview hoped that the theme for this year will deliver to expectations because the focus is going to be on how the industry can encourage and strengthen local participation in such an emerging and fast-growing economy.
"I believe it is important that many stakeholders take part in this summit, so we can share ideas and see how we can drive it to the level that will be beneficial to our people," he said.
Wisdom Ahiataku Togobo, Director of Renewable and Alternate Energies, Ministry of Energy, noted that he is looking forward to fruitful discussions as far as increasing local participation in the energy sector is concerned. "Please join us, let us have a fruitful time together."
Sulemana Abubakari, Deputy Director in charge of Distribution, Energy Ministry, added that: "We are happy to invite you to this year's Ghana Energy Summit, which promises to be an interesting and exciting one coming on the heels of what we did two years ago. The summit has contributed a lot to enriching the discussion around the energy sector's activities and programmes," he said.
He added that the last one contributed a lot of ideas to improving Ghana's energy policy. "I am happy to invite you and encourage you to join us at this year's Energy Summit."
After a successful maiden event in 2017, which saw more than 500 energy sector stakeholders from local and international business leaders, civil society organisations, regulators and government officials, the B&FT and the Energy Ministry are set to once again meet with stakeholders this year to share their thoughts.
Dr. Edith Dankwa, CEO of B&FT said: "The annual event has become a permanent platform for key actors in the energy sector to meet, deliberate, remedy any existing deficiencies there may be in policy, and together develop new policies and programmes to build a strong energy sector".
Ghana's energy sector has seen tremendous changes since the promulgation, in November 2013, of the LI2204 to promote maximisation of value-addition and job creation through the use of local expertise, goods and services business, financing in the petroleum industry value chain, and their retention in Ghana.
Since the regulation came into force, there is no doubt that there have been challenges in turning its objectives into a reality. This requires active participation and action from all stakeholders.
The summit will provide a non-partisan environment for government, global energy industry representatives, other businesses, scientific and technological communities, civil society groups, academics and students, journalists and the public to discuss the challenges and find solutions to overcoming them.
The objective is to make local content and participation a practical reality and a win-win for both international investors and operators, on one hand, and local businesses and citizens on the other hand.