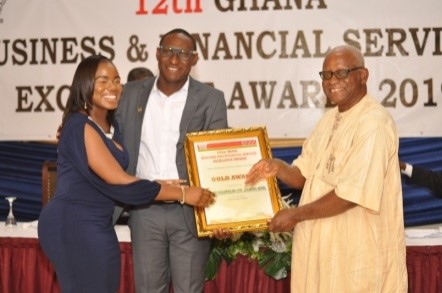 Government has been commended for the plethora of programmes it has initiated to grow the economy and also provide jobs for the teeming youth, with a caution that much still remains to be done in putting the economy on an even keel for accelerated development.
Delivering the keynote address at this year's 12th Ghana Business and Financial Services Excellence Awards Dinner, Dr. Prince Kofi Kludjeson – past President of the Association of Ghana Industries (AGI), emphasised that in this regard there is an urgent need for policy coherence and coordination among the various state institutions and actors.
He noted that the African Continental Free Trade Area coming into force brings in its wake the creation of a single market for products on a duty-free and quota-free basis, and the implication of this scenario is that government must take adequate and appropriate steps to move the economy from its laudable policy initiatives to the implementation phase, in order to attain the status of an agro-industrial country.
Dr. Kludjeson cautioned that if Ghana fails in this direction, then it is certain that we will become a dumping-ground for products from sister African countries.
He also expressed dismay at the fact that the cost of generating electricity in Ghana still remains extremely high in the context of the ECOWAS sub-region, and that the supply of electricity is also frequently erratic and unpredictable – which serves to increase the cost of production to industries in the country and thus make Ghanaian products less competitive in relation those from other West African countries.
Besides ensuring increased investments in renewable energy – especially solar, wind and nuclear energy – the past AGI President urged the authorities to lower electricity tariffs, especially for industrial production.
The Awards Ceremony was chaired by Nana Dr. Baah Wiredu, a former United Nations World Tourism Organisation Consultant, who congratulated the distinguished Award Winners and entreated the business community to enhance innovation.
According to Mr. Isaac Dakwa, Director of Top Brass Ghana – organiser of the Awards, the Ghana Business and Financial Services Excellence Awards Scheme has been instituted under the theme 'Promoting Ghana's Economic Development' to offer a platform to celebrate our business successes, discuss topical issues, and indentify challenges militating against our progress in growing the economy with a view to addressing them in order to chart a clear path forward.
A total of 23  companies were honoured: including Abosso Goldfields Limited (Gold Mining); Devtraco Limited (Real Estate Development); Genius Industries Limited (Manufacturing); Jekora Ventures Limited (Waste Management); Lashibi Funeral Homes Limited (Funeral Services); Melcom Limited (Commerce); Multipro Private Limited (Trading); Nyonkopa Cocoa Buying Limited (Cocoa Sourcing and Sustainability); and Star Assurance Company Limited (Insurance).